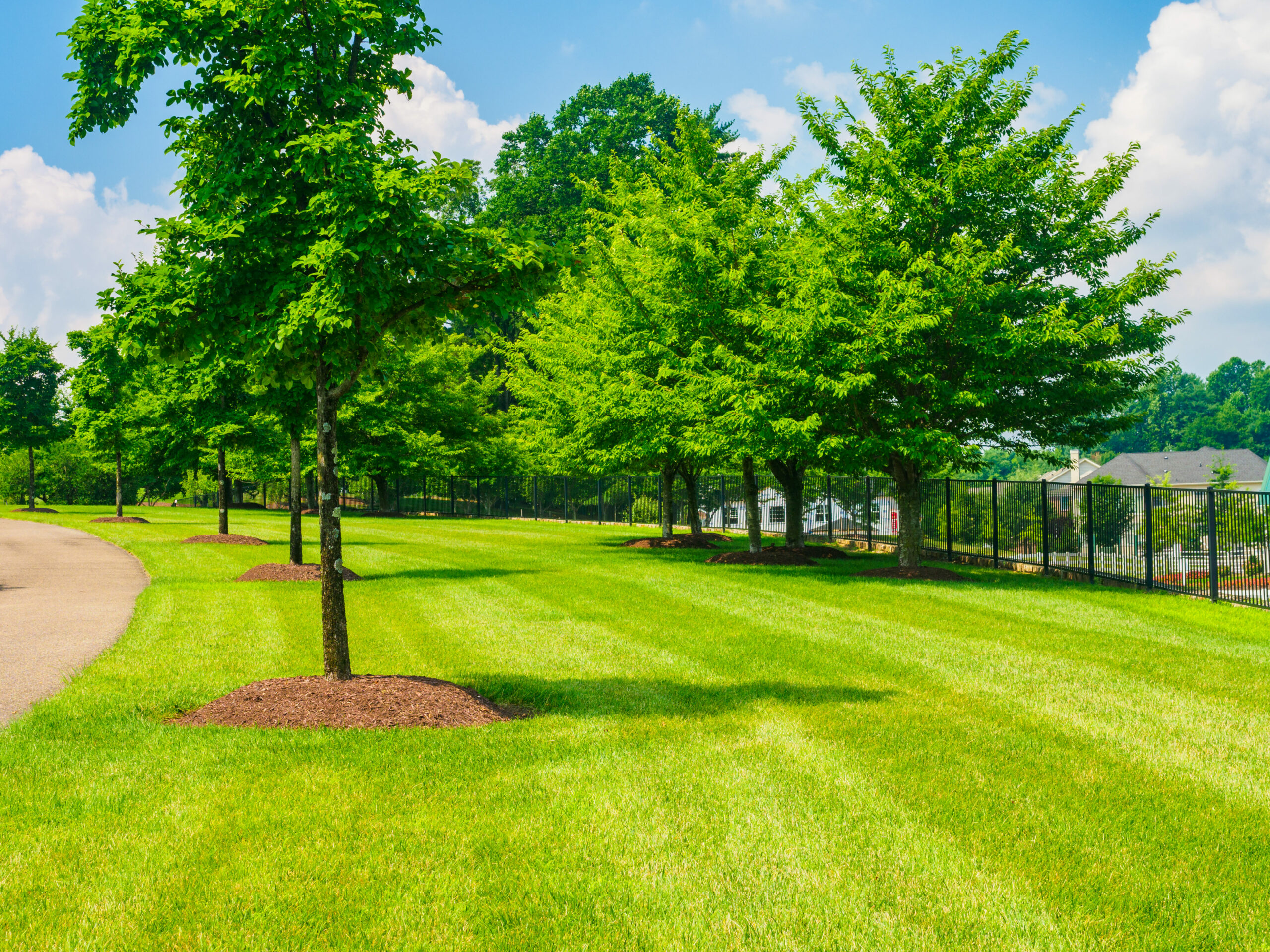 Commercial Landscape Maintenance
Turn a First Impression into
a Lasting Relationship
---
Commercial Mowing in Maryland, Northern Virginia & D.C.
Keeping your lawn mowed is one of the most basic exterior maintenance tasks for businesses. However, it can represent a significant investment of time, particularly on larger properties. Instead of taking on this job yourself, consider outsourcing your lawn mowing to Complete Landscaping Service.
Complete Landscaping Service offers a wide range of building maintenance services for businesses in the DC Metro area. We provide fast, attentive assistance to businesses of any size — from small storefronts with minimal green space to large apartment and office complexes, among other commercial properties.
Commercial Lawn Mowing Services
Most businesses think of lawn mowing as something relatively straightforward. However, it's important to remember that your lawn is a living thing that requires diligent care on an ongoing basis. Mowing is more than just keeping it tidy and at a manageable length — it's also an opportunity to look for signs of disease and take corrective steps to ensure a healthy, lush lawn for years to come.
Working with a professional like Complete Landscaping Service puts lawn mowing in its proper place as part of a broader landscape maintenance program. Our experts can get the job done quickly while ensuring your property continues to look its best.
Benefits of Regular Lawn Mowing
Regular lawn mowing is a vital part of exterior property maintenance. By keeping your lawn from becoming overgrown, you avoid the difficulty of having to take more drastic action later. Short grass will also use fewer resources, keeping your water bills down. It prevents safety hazards and conditions that can encourage the growth of weeds and other garden pests.
Of course, the most significant benefit to lawn mowing is that it gives your business a clean, professional appearance. When customers visit your property, they'll see you're a detail-oriented organization that cares about making a positive first impression.
Why Complete Landscaping Service?
Complete Landscaping Service works exclusively on commercial properties and will treat your lawn with all the professionalism that entails. Our team will arrive on time and provide a detailed, accurate estimate for any work you need us to do. We will operate with transparency and integrity in everything we do, using appropriate tools to ensure the job is done right the first time.
Our clients include apartment complexes, golf courses, office and school buildings, parks and more. Because we don't take on residential customers, we can dedicate all our resources to your success.
We offer commercial property mowing services on a one-off basis, or as part of a larger landscape maintenance plan. Let one of our team members put together a custom package of ongoing and seasonal services for your property. Contact us to arrange a free consultation with one of our experts today.