On The Brighter Side: The Benefits of Landscape Lighting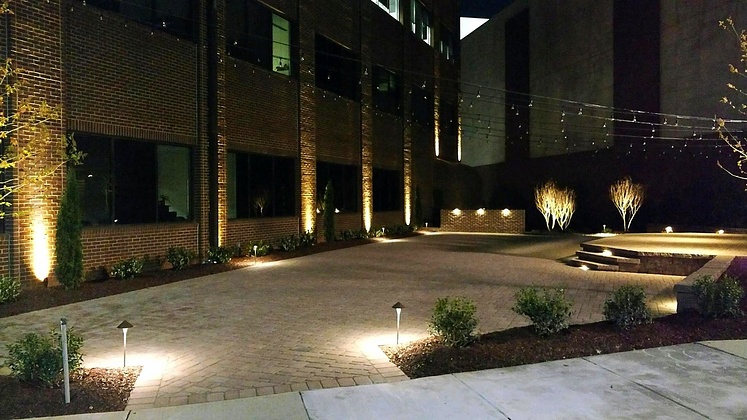 What is Landscape Lighting?
The main purpose of landscape lighting is, quite literally, to illuminate the landscape and all of its features.  Landscape lighting is strategically placed low-voltage fixtures within the landscape to illuminate very specific landscape elements.  It provides a whole new dimension to your outdoor world. As the sun sets and light fades, new features emerge. A multistem birch becomes a sculptural piece in the landscape when soft uplighting streaks up the trunk, accenting the white paperbark and green canopy.  Evergreens appear as green velvet walls.  The colors of the walking paths light up in an effervescent glow.  Well-designed landscape lighting brings personality and liveliness to your commercial property.
Why Add Landscape Lighting to Your Property
Creates Atmosphere – As a commercial property owner or manager, you know that landscape is a significant investment.  It should be showcased 24 hours a day.  Just because the sun goes down doesn't mean the landscape has to fade into the background.  Landscape lighting helps to create and define spaces that invite residents and visitors to stay outdoors a little longer.   Casual gathering spaces may be illuminated using overhead string lights, while more formal spaces
Accent Unique Landscaping and Architectural Elements – Whether it's a specimen tree, a collection of stone columns, or a water feature, you can use landscape lighting to draw attention to the focal points throughout your commercial property that are most visually interesting. Outdoor lighting ensures that each featured area in your landscaping is visible and illuminates it in a way that allows others to appreciate it.
Security – The last and most well-known reason for landscape lighting is security. Well-lit properties are more inviting to visitors and make residents feel safer after dark.  Illuminating paths and other heavily traveled areas in the exterior landscape help guide people through the property.
Landscape lighting is one of the most important – and overlooked – parts of designing great outdoor spaces. It is not only practical, but it extends the visual beauty of your commercial property into the evening hours.  If you currently have landscape lighting or would like to discuss options for installing landscape lighting, contact us today.