DULLES FARMS - COMMUNITY ASSOCIATION
Details: Dulles Farms is a beautifully planned community located in Loudoun County, Virginia. With over 450 acres and over 1700 homes there is extensive landscaping needs to maintain. A year round IPM and turf care program has been implemented along with front entrance installations
Location: South Riding, VA
Type of Property: HOA
Scope of Work: Landscape Maintenance and Landscape Design & Masterplanning
Landscape Maintenance

Mowing and trimming
Pruning of trees and shrubs
Turf Care
Plant Health Care Program
Snow Removal
Landscape Renovation
Rejuvenational Pruning of Mature Trees and Shrubs
Lawn Restoration
Plant Installation
IPM Treatment
What began as a grounds management contract grew to include snow and ice management as well as a multi-year master plan that focused on reinvigorating the grounds of AAMC. Rejuvenating declining plant material, upgrading landscaping at the main signage, and adding mass plantings back into areas where landscaping had previously died or been removed were just a few of the things that were done to improve the overall aesthetics of the campus.
---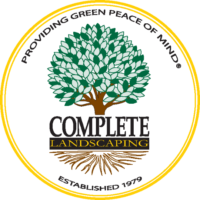 Contact Us for Your Commercial Landscaping Needs
301-218-1800 for General Inquiries
301-390-8893 for Sales & Bids
info@completelandscapingservice.com
Thank you for your interest in Complete Landscaping. Fill out the form to get a free quote on your commercial landscaping project and we will get back to you shortly.