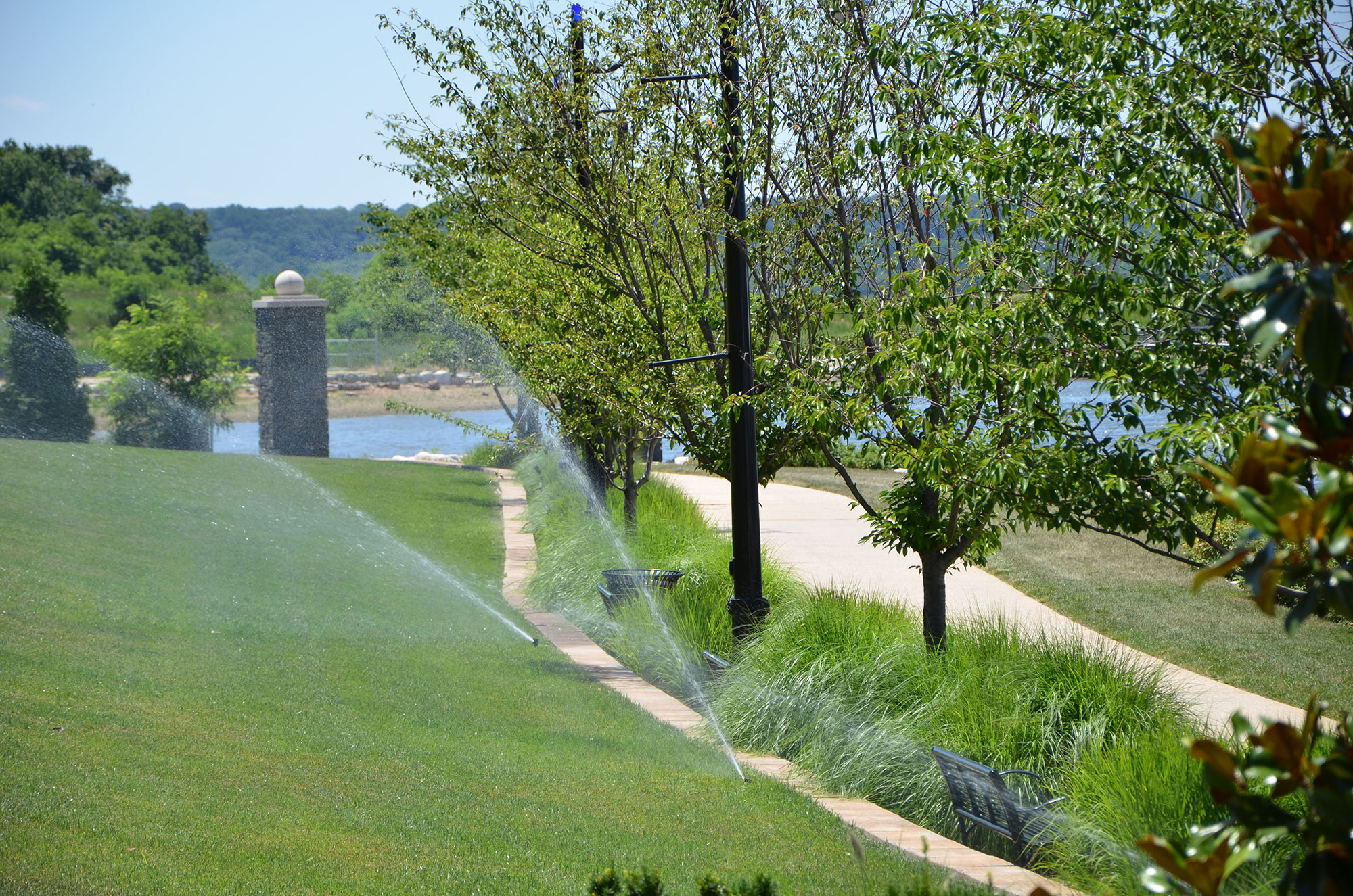 Commercial Irrigation Services
Commercial irrigation systems are like insurance for your landscaping.  Many commercial property owners and managers utilize automated irrigation systems to keep their turf and landscaping healthy and vigorous throughout the growing season.  Our commercial irrigation team works with you to make sure your irrigation system is operating efficiently so that your landscaping remains healthy and vibrant.
Landscaping is a significant investment for any commercial property owner and must be carefully managed. Grounds should add value to your property, and a well-planned Annual Landscape Maintenance program is one way to make sure that your landscape continues to increase in value.
Our goal is to see the original design intent for your property, develop our recommendations on how to emphasize it, and maintain that vision for years to come.
Commercial Irrigation Benefits
A high-quality commercial irrigation system will keep your landscape looking lush, even during periods of hot dry weather.  Commercial irrigation systems distribute water directly to the root zone of the plants.  Properly designed and installed, irrigation systems aid in water conservation efforts by applying water at scheduled intervals.  This can save properties hundreds to thousands of dollars annually on water bills.  Rain sensors, moisture sensors, smart controllers, and water-smart heads help to avoid the needless waste of water without compromising plant health.   Complete Landscaping Service has the expertise and experience to design a customized irrigation system that will meet the unique watering requirements of your landscape, regardless of size, configuration, or topography. We also implement advanced water conservation technology that can reduce your organization's utility bills.
Commercial Irrigation Services Include:
Annual Service Policies (start-up, seasonal inspections, winterization)
System Design & Installation
System Add-Ons
Smart Controllers & Mobile Monitoring
Fountain, Pond, and Water Feature Service and Repair
Pump Stations & Filtration Systems
Water Conservation Recommendations
Site Specific Watering Programs to Meet Your Property's Landscape Needs