Commercial Landscaping in Northern Virginia
Commercial Landscaping in Northern Virginia
Your Local Commercial Landscape Maintenance Contractor
Complete Landscaping is proud to be one of the most respected commercial landscaping companies serving Northern Virginia for more than four decades. Our service territory encompasses the Loudon, Fairfax, Prince William, and Arlington counties, which range from urban settings to rolling farmland and suburban environments.
We know that you need a reliable commercial landscaper who understands the needs and goals for your Northern Virginia Property throughout the seasons. Our team of green industry experts is fully licensed, bonded, and Insured. We have the expertise you can trust to deliver high-quality work. When you choose Complete Landscaping, you will set your business apart— with help from our dedicated team you will inspire your residents, tenants, and visitors.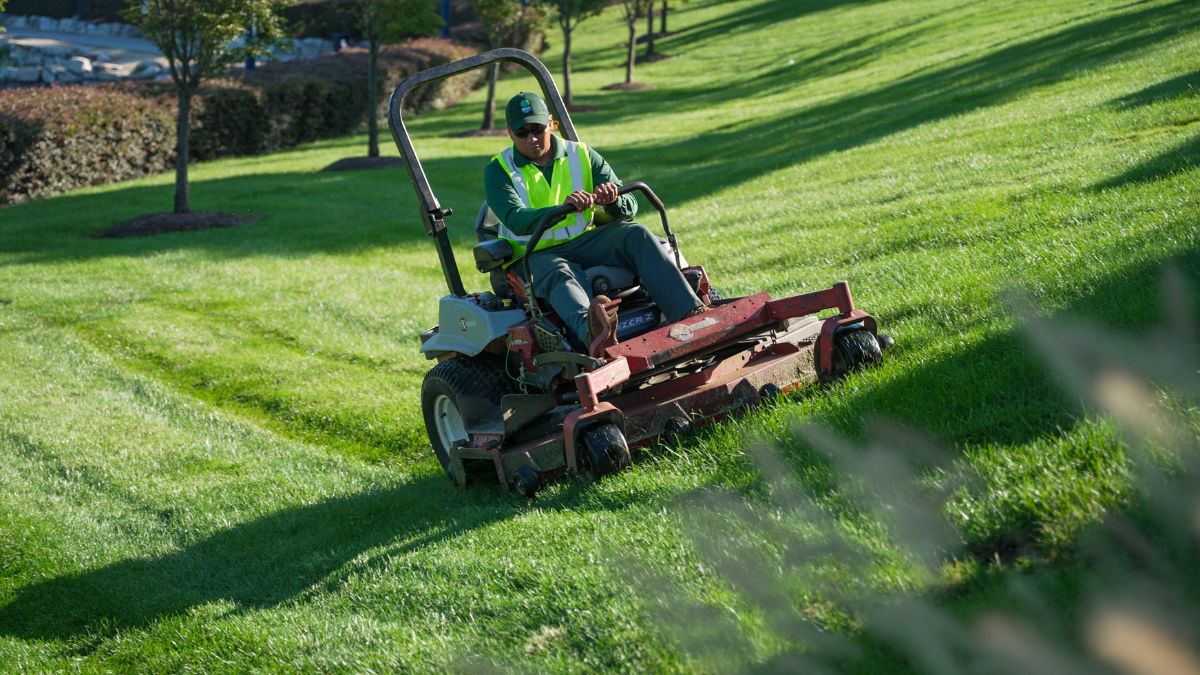 Northern Virginia Commercial Landscaping Services
Increasing the Value of Your Business Property
Complete Landscaping has the equipment, experience, and attention to detail to successfully complete nearly any commercial landscaping project in Northern Virginia. Our services include the following:
Commercial Landscape Maintenance
Our annual commercial landscape maintenance program is designed to increase your commercial property value in Northern Virginia. Services range from lawn maintenance, weed control, and fertilization to turf and ornamental care programs, plant bed definition, pruning, and arbor care, and seasonal flower plantings.
Commercial Landscape Design & Construction
Our commercial landscape construction team completes new construction and large-scale property enhancements. Many projects in Northern Virginia use greenscreens, high-end custom planters, and outdoor kitchen surrounds to attract new customers–and these elements have been part of many of our recent installations. Other features range from planting installations and site furnishings to pavers, retaining walls, and deck tiles.
Commercial Landscape Design, Masterplanning, & Enhancements
Our commercial landscape design team uses conceptual drawings and photo enhancements to show property managers and owners in Northern Virginia new landscaping ideas. Masterplans provide material details, phasing costs, and assist with the budgeting and prioritizing of improvement projects. If you are interested in property upgrades and enhancements—outside the scope of an annual maintenance agreement—we can offer enhancements like new plantings, outdoor amenity spaces, and pool and outdoor space upgrades.
Commercial Snow Removal
Snow and ice management is challenging for commercial property managers in Northern Virginia, but we can help. Your property needs to remain safe and open for visitors, customers, and employees.  We combine our state-of-the-art equipment and unrivaled experience to make sure that happens.
Commercial Irrigation Systems
An irrigation system is like an insurance policy for your landscaping.  We design and install water-smart irrigation systems to keep your commercial property lush and green all year long. Our annual service policies and seasonal maintenance plans provide your property with optimal irrigation performance in every season.
Our Commercial Landscaping Services
Who Do We Serve?
Education institutions
Government buildings
Religious institutions
Data Centers
Work With Complete Landscaping
Northern Virginia's Top Choice for Commercial Landscaping
Complete Landscaping serves a variety of commercial properties in Northern Virginia and throughout the DMV. We customize our programs to meet your property's unique landscaping needs—and we always ensure that the landscaping matches your desired tone and brand. Our team of landscape designers, technicians, and horticulturists recommend the services that your property needs to get the largest return on your investment. When you choose Complete Landscaping, you will have peace of mind that your business property will always look its best.