Commercial Landscape Maintenance in Maryland, Northern Virginia & D.C.
Beautifully landscaped commercial properties don't just happen. It's a good bet there is a professional Landscape Maintenance provider working behind the scenes to keep everything in order. Even if you manage or own a property that doesn't have a lot of green space, you still need landscaping services. Why? Exterior grounds are a large part of any commercial property's impression on the public. Landscaping is one of the very first things a prospective renter or visitor sees.
But landscape maintenance is about more than just making sure that all of the plantings and lawns stay alive. Landscaping is an asset and must be carefully managed.  Landscaping is a significant investment for any commercial property owner.  Proper care of your landscape is the equivalent of proper care of your home or vehicle.  We want your grounds to add value to your property, and a well planned Annual Landscape Maintenance program is one way to make sure that your landscape retains its' value.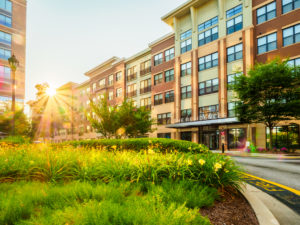 What is Commercial Landscape Maintenance?
Commercial Landscape Maintenance is the term for the package of services needed to properly care for exterior grounds on a commercial property. If you own or manage an apartment community, HOA, urgent care facility, office building, retail outlet, or other property, you likely have grounds that need to be managed. Services can range from basic mowing, trimming, and weeding to full-scale turf programs, ornamental care, and seasonal color installation. Each property will have its own requirements for services and proposals and contracts should be crafted around those needs.
Customized Commercial Landscape Maintenance Programs
Before you even select us as your landscape partner, one of our experts visits your site for a consultation. Our goal is to see the original design intent for your property and develop our recommendations on how to emphasize it. Since every commercial property is unique, it means that every landscape maintenance program must be as well. Maybe your property has heavily used green spaces that require a detailed turf care program. Or perhaps you have invested a lot of money in ornamental shrubs and trees and you want to maintain their health with a solid IPM program. Whatever the need, everything we do is tailored to the specific character of your property.
Is Landscape Maintenance Expensive?
Commercial Landscape Maintenance contract prices are influenced by a few things:
What type of services do you want to have performed?
The main thing driving price is which services are needed.  Mowing, weeding, mulching, and leaf removal are the bare bones services and can be relatively inexpensive.  Adding specialized services like lawn programs, seasona flowers, or irrigation increase annual costs.
How often do you require service?
Annual costs are also impacted by how frequently the property needs service.  If a company mandates a flat number of visits, it can drive costs up.  If weather conditions in the area are considered, we typically reduce the overall number of visits needed and still keep the property looking good.
How large is your property?
The final cost factor is property size.  It takes more people and equipment to service a property with 10 acres of grounds than it does to service one with 1 acre.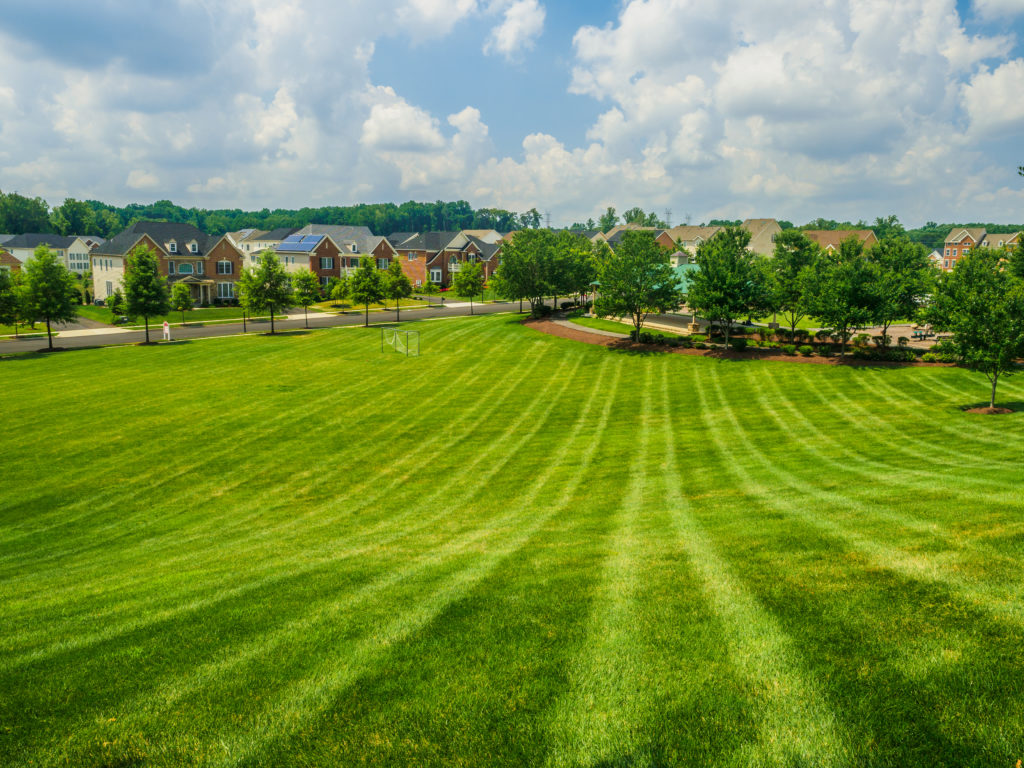 Why Trust Our Team?
Some of the best Commercial Landscaping companies service the DC Metropolitan area. So what makes Complete Landscaping Service different?
We Are…Experience. Our team has decades of experience serving Maryland, Northern VA, and DC – 40 of them to be exact. Our track record is long when it comes to exceeding expectations and delivering value to our customers.
We Are…Value. Services should be performed because they are needed or because they add value to the landscaping. When services don't add value or are not needed to keep the landscape looking it's best, we will tell you how to get more return for those same landscape dollars.
We Are…Commercial. Our focus remains exclusively on the Commercial client base in Maryland, Northern VA, and DC. We are accustomed to working with real estate professionals and have the resources to manage one property or an entire portfolio.
We Are…Green. It's even our tagline. "Providing Green Peace of Mind" drives everything we do. From recycling yard waste to saving our clients money, we don't cut corners to provide great service.
We Are…Full Service. There's more to caring for the landscape than just mowing the grass. Snow removal in winter. We do it. Irrigation needs in summer. Call us. Seasonal color changes in spring and fall. Check and check. No matter the season, we are there to handle all of your landscaping needs.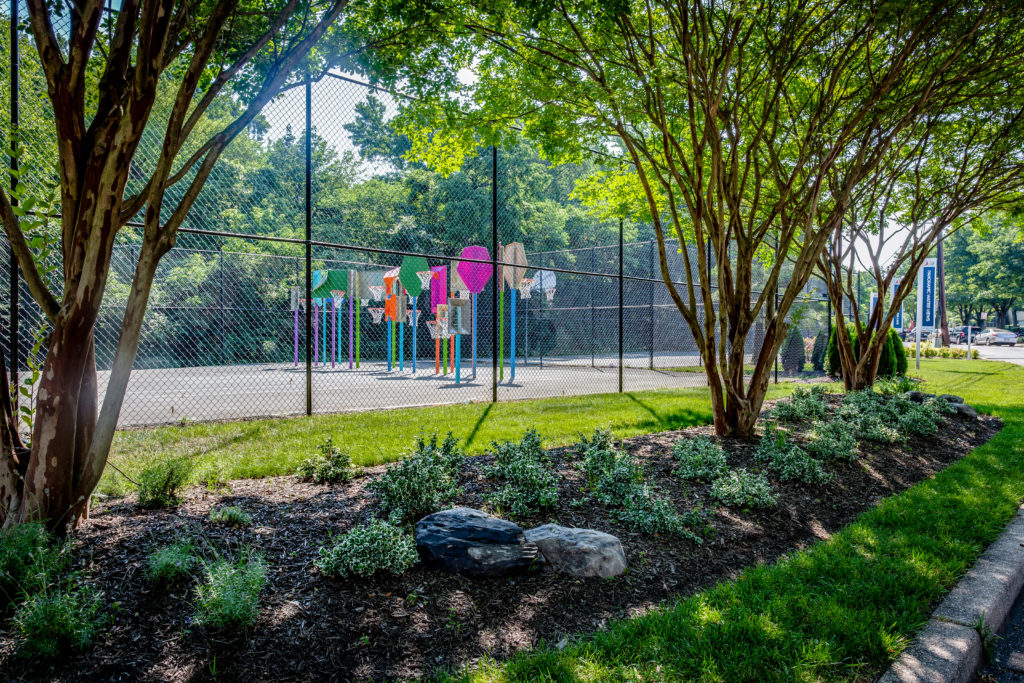 Complete Landscaping Service specializes in high-quality commercial landscaping maintenance and grounds management services for all types of businesses. Are you interested in seeing what partnering with one of the region's best full-service landscape providers can do for your property?