Commercial Landscape Maintenance in Maryland, Northern Virginia & D.C.
Beautiful commercial properties don't just happen. It's a good bet there is a professional Landscape Maintenance contractor working behind the scenes to keep everything in order. Even if you manage or own a property that doesn't have a lot of green space, you still need landscaping services. Why? Exterior grounds are one of the very first things a prospective renter or visitor sees.
What is Commercial Landscape Maintenance?
Commercial Landscape Maintenance services keep property grounds healthy, clean, safe, and attractive to potential customers.  Commercial grounds care can be as basic as mowing, mulching, and leaf removal.  Or it can be comprehensive to include ornamental care, turf regimens, and flowers. Complete Landscaping Service offers an extensive menu of maintenance services to make sure that your commercial property looks its best all year long.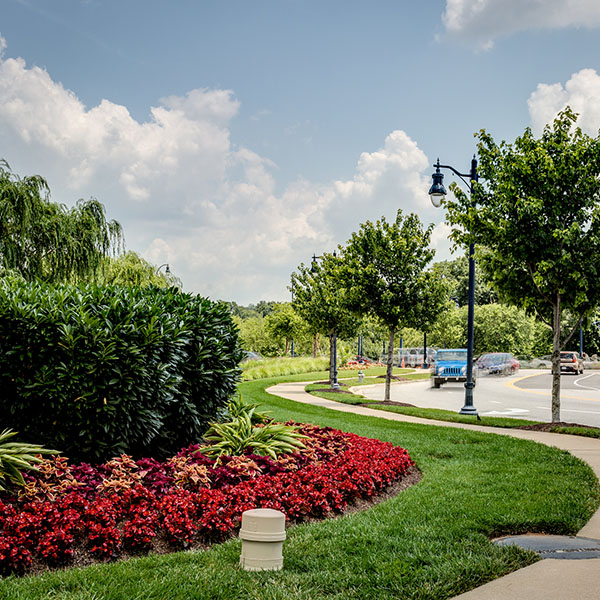 Customized Commercial Landscape Maintenance Programs
Each commercial property is unique; that means that every landscape maintenance program must be as well. Each type of property has its own requirements for services and proposals. Whether you own or manage an apartment community, HOA, urgent care facility, or other property, the grounds need expert care. Contracts should be crafted around those needs.
Landscaping is a significant investment for any commercial property owner and must be carefully managed. Grounds should add value to your property, and a well-planned Annual Landscape Maintenance program is one way to make sure that your landscape continues to increase in value.
Whatever the need, everything we do is tailored to the specific character of your property. Maybe your property has heavily used green spaces that require a detailed turf care program. Or perhaps you have invested a lot of money in ornamental shrubs and trees and you want to maintain their health with a solid IPM program. Our goal is to see the original design intent for your property and develop our recommendations on how to emphasize it.
Is Commercial Landscaping Expensive?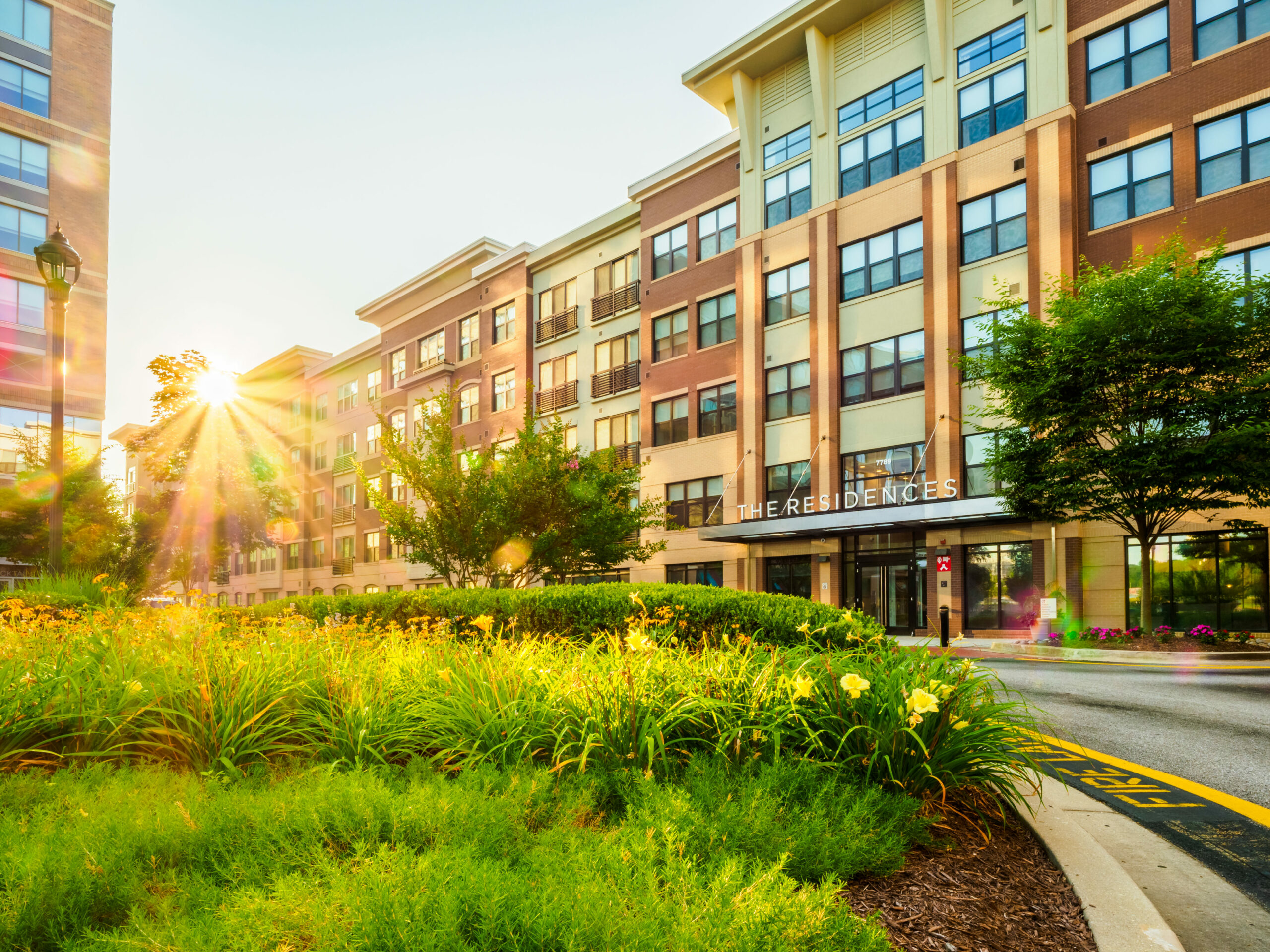 Commercial Landscape Maintenance costs can be influenced by a few things:
What type of services do you want to have performed?
Mowing, weeding, mulching, and leaf removal are the most basic services and can be relatively inexpensive.  Adding specialized services like lawn programs, seasonal flowers, or irrigation policies can increase annual costs.
How often do you require service?
When properties mandate a flat number of visits, it can drive costs up.  When typical weather conditions in the area are considered, properties can reduce the overall number of visits needed and still keep the property manicured.
How large is your property?
The final cost factor is property size.  It takes more people and equipment to service a property with 10 acres of grounds than it does to service one with 1 acre.
It is important to remember that contract prices may seem expensive, but when the annual maintenance cost is compared to the initial investment to plant the property or the cost to replace landscaping that has been allowed to decline, maintenance is an affordable and necessary form of insurance for your property.
Why Trust Complete Landscaping Service?
Some of the best Commercial Landscaping companies service the DC Metropolitan area. So what makes Complete Landscaping Service different?
Experience – Our team has more than 40 years of experience servicing commercial properties throughout Maryland, Northern VA, and DC.  Our track record is long when it comes to exceeding expectations and delivering value to our customers.
Value – Services should be performed because they are needed. When services don't add value or are unnecessary to keep the landscape looking its best, we will advise you how to get more return for those same landscape dollars.
Commercial – First impressions are important for commercial We are accustomed to working with real estate professionals and have the resources to manage one property or an entire portfolio.
Green – "Providing Green Peace of Mind" drives everything we do. From recycling yard waste to saving our clients money, we don't cut corners to provide great service.
Full Service – There's more to caring for the landscape than just mowing the grass. Whether your property needs snow removal, irrigation services, new design ideas, or installation of hardscapes, plantings, or furnishings, we have the in-house teams to get it done.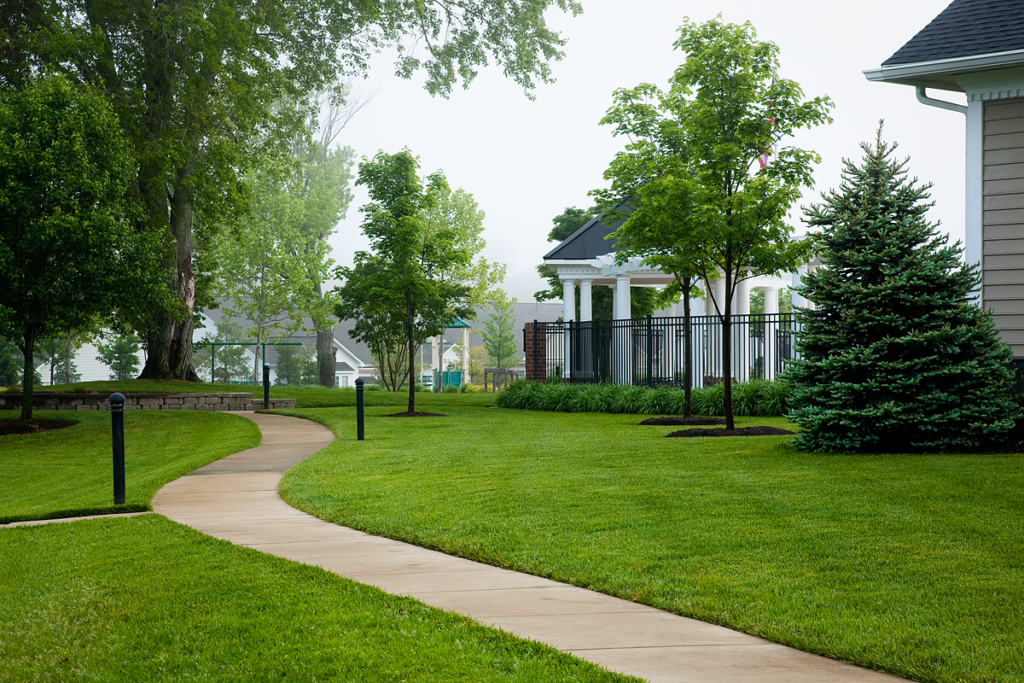 Complete Landscaping Service specializes in high-quality commercial landscaping maintenance and grounds management services for all types of businesses. Are you interested in seeing what partnering with one of the region's best full-service landscape providers can do for your property?