Attracting Dog Loving Tenants with Dog Parks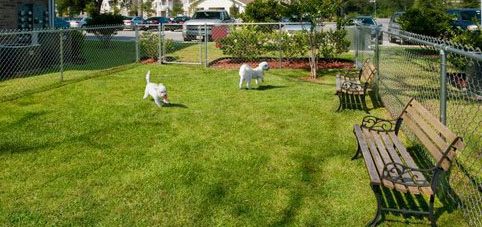 Dog parks are not a new thing. They've been present in some of the largest US Cities for decades, but in recent years, they are popping up in private neighborhoods, apartment complexes, and condominium communities at a staggering rate. Why the change? Over thirty-six percent of US households have dogs. Thirty. Six. Percent. And that statistic grows each year. In American households, dogs are almost as likely to be family members as children are, so in addition to those stainless-steel appliances, granite countertops and resort-inspired bathrooms that people have come to expect inside their new homes, potential renters and buyers are also looking outside for amenities that cater to all members of their families – including the four-legged ones.  Communities lacking pet-friendly amenities, particularly dog parks, could potentially be excluding over a third of their potential market share of residents.
Clearly it makes good business sense to offer residents a place for their furry friends to enjoy, but what makes a dog park great?  The best dog parks are more than a large grassy area surrounded by a fence.  Recent dog park designs incorporate these:
Low maintenance, easy to clean surfaces like decomposed granite or artificial turf. Both materials drain easily and are safe and easy on the paws of any breed of dog – large or small.
Dog stations with supplies for cleaning up after the dogs are a must. No one wants to play in a dirty park and it is especially the case with dog parks.  Clean is key.
Dog exercise and agility stations, water fountains.
Seating, paths, and shade for two legged visitors.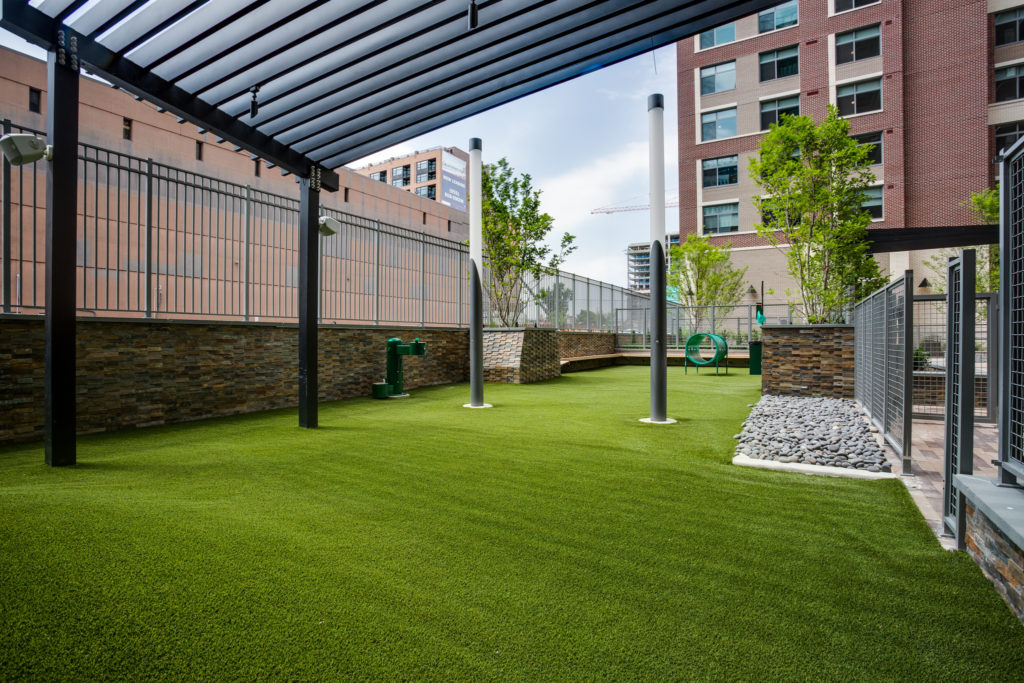 Why Do Dogs Need a Whole "Park?"
Even the most diligent dog walker can understand that there's nothing better to a dog than being "free" from their leash.  If you've ever seen a dog escape from their collar and just run, you will know what I mean.  Their faces say it all – it's pure bliss.
In urban settings, it is unlikely a dog could ever realize such joy, and even in suburban settings, there can be limitations.  But dog parks change that by providing safety.  They are places where dogs run freely off leash without the dangers of traffic.  They can trade the discomfort of walking on hot, unforgiving concrete sidewalks or asphalt for running on cool, clean, smooth surfaces.  And their barking, jumping, running and playing is joyous and welcomed rather than disruptive or unwanted.  A well exercised dog makes a great pet and a great neighbor and there is no better way to get them that exercise than a dog park.
Dog Parks Bring Humans Together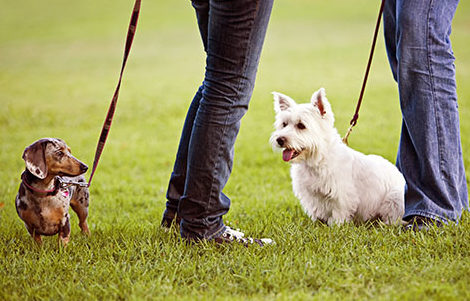 Don't think of a dog park as only benefiting the furry ones in your life.  A by-product of a dog park is the chance to socialize with other dog loving residents.  Events like Yappy Hour give dog owners and their pups a chance to meet and catch up while getting exercise and fresh air.  Dog parks can also be a great location to host a community fundraiser like Bark in the Park to gets residents rallied behind a cause and raise money for charities and organizations such as the local humane society, food pantry, or hospice.
Interested in adding a Dog Park to your commercial property or apartment/condo building? Complete Landscaping Service will be happy to give you a proposal for adding this sought after amenity to your property.