Get Your Property Noticed with Landscape Lighting
As the days get shorter, make your commercial property feel more accessible to visitors by adding well-designed landscape lighting. Illuminating your landscape with commercial lighting design increases property visibility, curb appeal, and safety for residents, visitors, and employees – and it costs less than you would think.
Less is Always Better
A commercial lighting expert will be able to identify the best ways to illuminate your property using less energy, with less maintenance, and less waste all resulting in cost savings to your bottom line. Here are some ways a professional lighting design can help to control costs.
Automatic timers and solar controls
Timer controls help to save energy by activating and deactivating lighting at specific times. Two types of timers that are commonly used are manual timers and programmable timers. Another option is photosensor controls that sense ambient light conditions and activate when it starts to get dark. You can also select motion-sensitive or timed lighting, automatic dimmers and more. Different lighting systems work better for different spaces, but regardless of which option you choose, all of these features will reduce the amount of energy used to light your property.
Energy efficient bulbs
According to the Department of Energy, LED energy-efficient light bulbs last 3-25x longer than traditional bulbs, using 25% – 80% less energy. LED technology provides the ability to light larger areas at a fraction of the cost. That means you can keep your business well lit without increasing its footprint on the environment or your costs.
Qualify for LEED and other useful certifications
There are tax incentives, utility rebates and federal tax deductions available for commercial properties who meet green building and energy efficient standards. Note that some tax incentives expire on specific dates so before you explore retrofitting your space or making costly changes for the purpose of achieving tax credits, it's always a good idea to make sure the savings your are anticipating are still available.
Avoid Liability
There are also practical reasons for quality lighting. The right lighting is essential for safety. When residents, visitors, and employees can see hazards more clearly, they can avoid those areas and reduce the chances of accidents and injuries. Lighting can also be used to illuminate breezeways or entrances into buildings making them safer. which improves your overall productivity and helps you run a more streamlined operation. Lighting is also essential to maintenance. Whether it's sweeping up dust or identifying potential issues with your infrastructure, you need to see what you're working with if you want to be proactive about service and repairs.
Extend the Season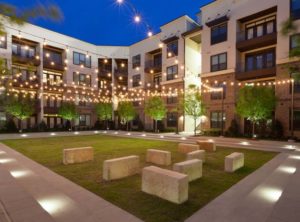 Outdoor spaces sometimes go unused in the fall due to the early sunsets. When landscape lighting is used to illuminate these spaces, you can extend the season for your commercial property. Offering well lit, safe spaces for residents and visitors to gather in the evenings gives your property a marketable advantage over other properties who may not have useable outdoor spaces in fall and winter.
Accentuate the Positive
You never know when the desired client, renter, or employee will pass by your commercial property. Use low voltage landscape lighting to let them know you are there. Lighting can be used to accent architectural elements like entry walls, gazebos, fountains, and monuments. It also adds winter interest to the landscape by highlighting focal points along your marketing path. Imagine shining light through the multi-stem structure of a Crape Myrtle or a grove of River Birch. Showing off the attractive bark and the complex branching structure in the evening adds winter interest both day and night. And you can use landscape lighting to show off amenity spaces that may otherwise be dark after sunset. Path lights to the pool and clubhouse or string lights at outdoor gathering spaces can help to show off your property's best features – even after dark.
Landscape lighting is an excellent way to get more out of your landscape while adding security and value to your property.
---