Get Your Property Noticed with Landscape Lighting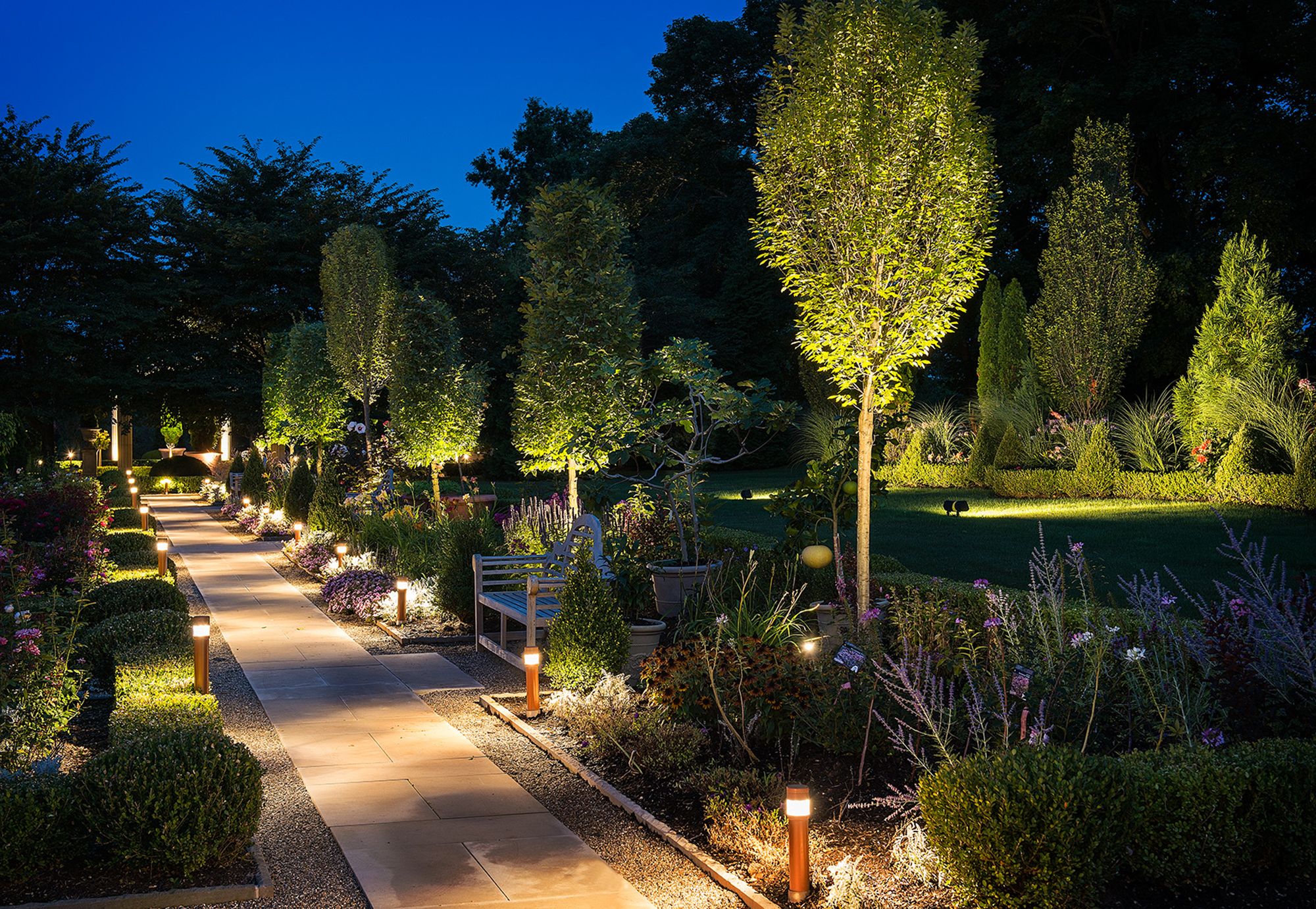 As the days get shorter, commercial properties may feel less and less welcoming if key features and outdoor spaces are not lit with landscape lighting. We take for granted that public spaces will be well-lit after dark, but pole lights and high voltage bollards often don't highlight the more intimate features of a community or property. Low voltage accent lighting is designed to softly brighten outdoor spaces, making it inviting visually.
Lighting Makes Outdoor Spaces Inviting
Extending indoor living spaces into nature makes creating safe, well-lit outdoor spaces a new priority for property owners and managers. Finding ways to make outdoor spaces useful after dark may likely attract new residents and visitors to a property. As evenings come earlier, lighting becomes an important feature to extend the use of these outdoor spaces later into the evenings. Additional landscape features like fire pits and heaters can make outdoor spaces even more welcoming.
Lighting Accentuates the Positive
Outdoor landscape lighting can draw attention to any property's most attractive features.  Lighting creates a feeling of warmth and serenity while highlighting the landscape.  Amenities and features that would otherwise be invisible after dark can now attract new prospects to your property.  Current residents and visitors can enjoy the comfort and ambiance created by properly placed low voltage lighting.
Ground lights can illuminate signage, helping people navigate through your property after dark.
Uplights or downlights can bring life to groves of trees, statuary, or water features.
String lights and wall washing lights can light up seating areas and courtyards making them bright enough to use even in the later evening hours.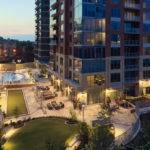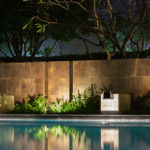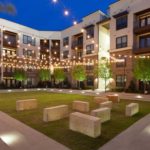 Avoid Liability
Proper lighting is essential for safety. When residents, visitors, and employees can see hazards more clearly, they can avoid those areas and reduce the chances of accidents and injuries. Lighting that illuminates breezeways or entrances into buildings makes these areas safer and less difficult to hide in.
Less is Always Better
Budget-conscious property managers may be concerned that lighting is a costly expense that just doesn't bring enough return. We're here to tell you that is not the case. Using the right combination of controllers and bulbs can keep the long term cost of landscape lighting reasonable. And landscape lighting provides a benefit that residents and tenants are willing to pay for.
Automatic timers and solar controls – Various types of controllers can be included in a landscape lighting package control when landscape lights are on. Programmable timers, photosensor controls, and motion sensors can be used to ensure lights are on ONLY during optimum times.  Different lighting systems work better for different spaces, but any combination of these options can reduce the amount of energy used to light your property.
Energy-Efficient Bulbs – LED light bulbs last 3-25x longer than traditional bulbs and use 25% – 80% less energy. LED technology lights larger areas at a fraction of the cost. That means you can keep your business well lit without increasing your cost.
Qualify for LEED and Other Useful Certifications – Tax incentives, utility rebates, and federal tax deductions are available for commercial properties that meet green building and energy-efficient standards.  We can design a lighting package that help you qualify for your local savings programs.