The Best Rooftop Planters for Washington DC Apartments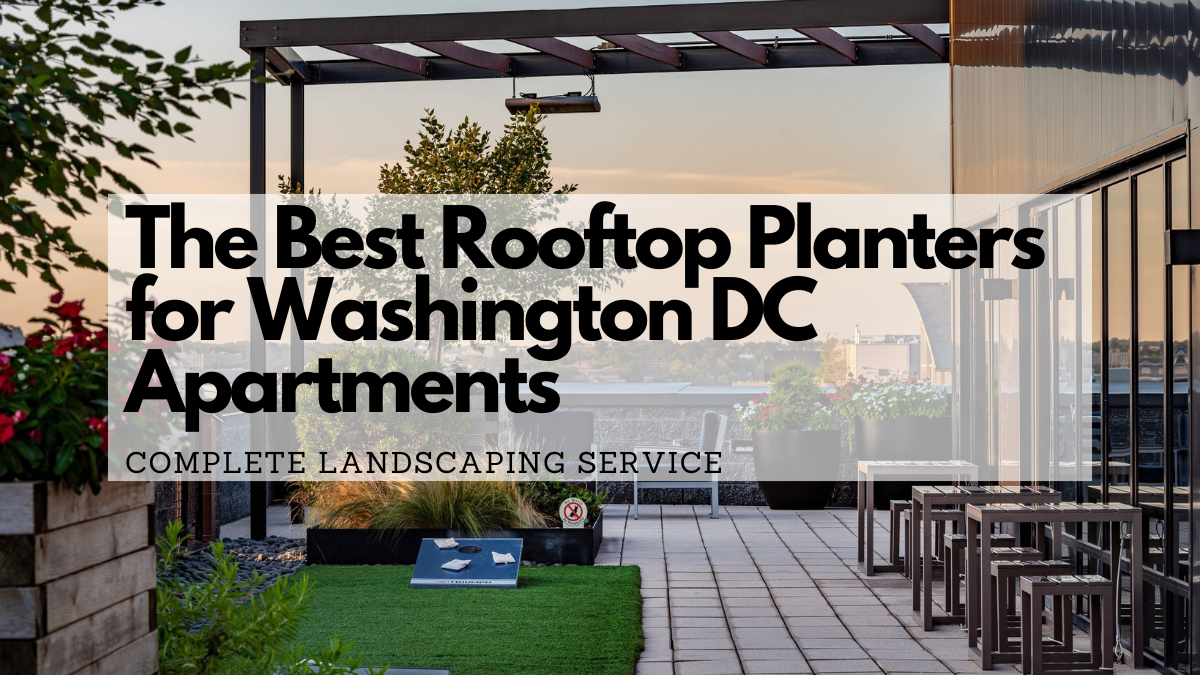 Why Your Property Needs Large Commercial Outdoor Planters
Large commercial outdoor planters create a beautiful and sustainable environment for residents to enjoy. Rooftop planters can enhance the beauty and appeal of your Washington DC apartment by adding greenery and natural elements. A landscape contractor should provide you with ideas for large flower pots with every season.
This is because large flower pots help to create a welcoming atmosphere for employees, customers, and visitors at your apartment. Additionally, outdoor planters can serve as a way to create designated areas for seating or to guide foot traffic. Overall, investing in large commercial outdoor planters can be a cost-effective way to improve the aesthetics and functionality of your property.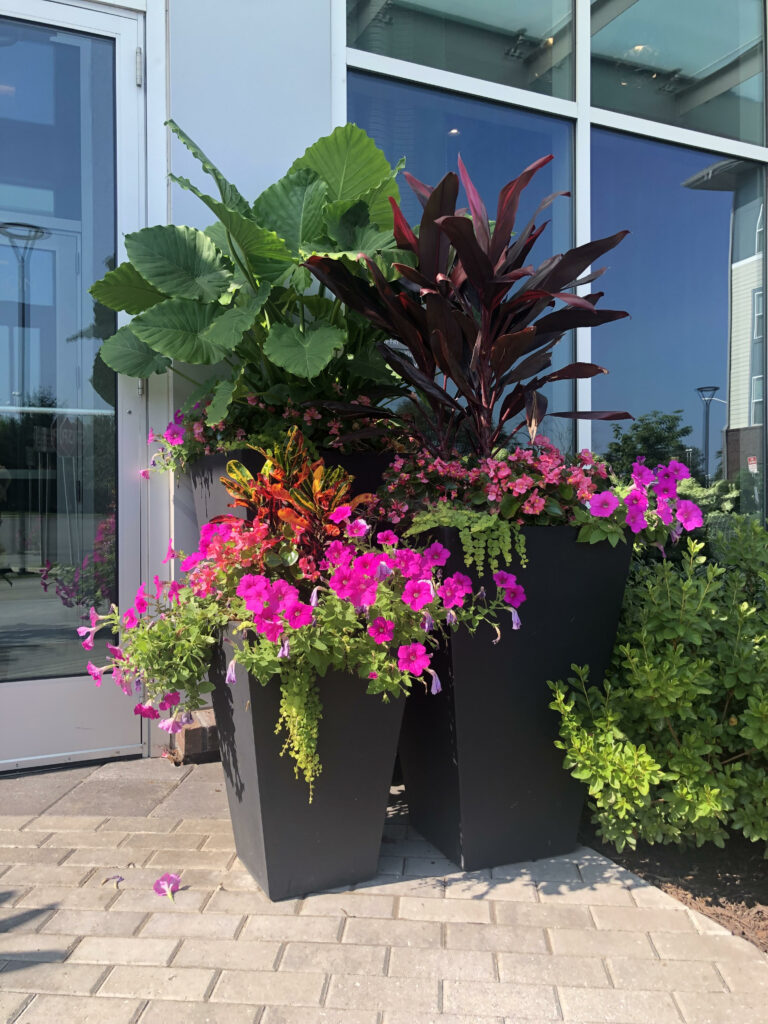 Best 3 Ideas for Large Flower Pots 
Create a focal point with a large flower pot by selecting a tall plant such as a palm tree or a tropical. Pair it with smaller plants or flowers to create a visually appealing arrangement.

Use a range of plant material. Sweet potato vine is a great way to give the whimsical illusion that the large pots are overflowing. 

Remember the thrill, fill, and spill technique. Make a statement with a large flower pot by painting it a bold color or adding decorative elements such as mosaic tiles or stones. This will add a unique touch of thrill to your indoor and outdoor space.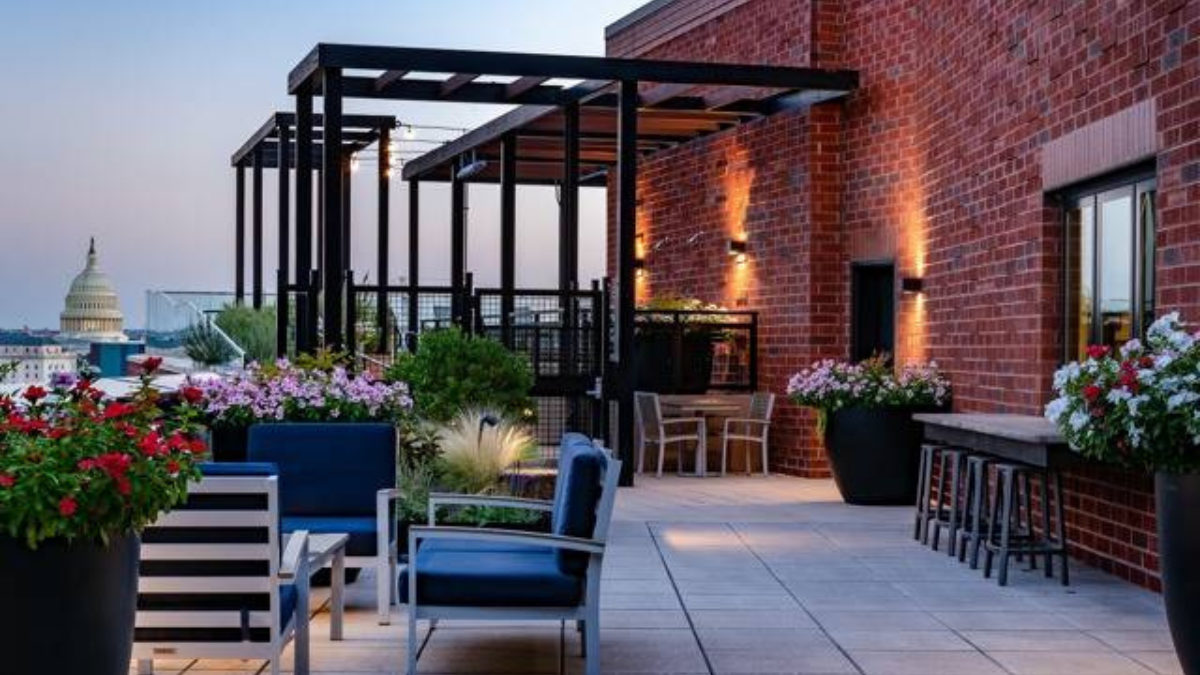 Rooftop Planters Are an Added Value for Your Apartment Building
Large planters that are made from durable materials, such as fiberglass, metal, and wood, are ideal for Washington DC apartments. These materials can withstand the varied weather conditions and can add a unique and beautiful look to any rooftop space. Additionally, these planters are easy to move and install, making them a great choice for apartment buildings.

By adding large flower pots, you can create a vibrant outdoor living space that is both aesthetically pleasing and environmentally friendly. The addition of colorful blooms and greenery can create a beautiful oasis that residents can enjoy for years to come. Additionally, the planters can help to reduce air pollution, improve air quality, and provide additional insulation and noise reduction for the building.
Rooftop planters are a great way to enhance your property and create an inviting atmosphere for residents. They can be used to create a vibrant and sustainable outdoor living space that will provide a place for residents to relax and connect with nature.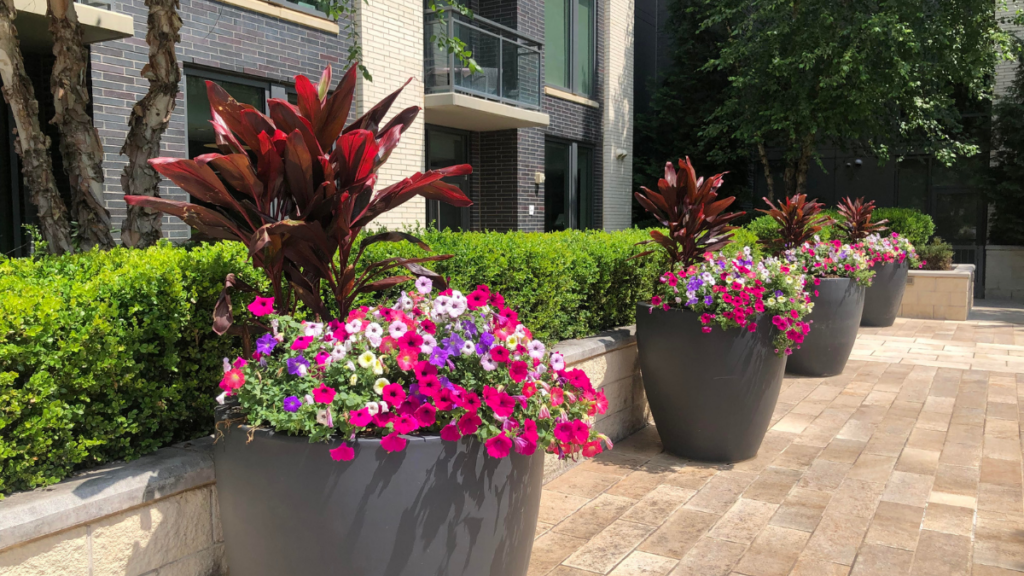 Commercial Landscape Contractors Near Me | Washington DC Landscapes
To find high quality commercial landscape contractors near you in Washington DC, you can try searching online directories such as Yelp or Google My Business. Be sure to read reviews and check for proper licensing and insurance before hiring a contractor. 
Rooftop planters can provide a variety of benefits for apartment buildings, such as improving air quality, reducing stormwater runoff, and creating a beautiful outdoor space for residents. Additionally, they can increase property value and attract potential tenants who value sustainability and green living. Looking for more ideas for large flower pots at your Washington DC apartments? Check out our design page to see how our team can help you elevate your rooftop garden.
Complete Landscaping Service offers a wide range of planter ideas with shades of green, use of hanging baskets, and pot planting. Contact us to work with our designer on your large commercial planter designs!