Uncover Added Value Hiding In Your Unused Space

Enhancing underused areas makes your property more competitive while increasing your value and rents per square foot
During a walk-through of a Luxury Apartment development in the greater Washington DC area, we stumbled upon a quaint and quiet area just behind the main complex that was completely unused. The space was part shade backing to a slightly wooded area. We all remarked, "What a perfect place to add a gathering area perhaps with a few bistro tables or a comfortable bench and chairs, or even a relaxing water feature. It would create a perfect resting place for residents to escape from the hustle and bustle of everyday life".  When asked, the property manager replied she hadn't really considered transforming the long, narrow and barren space into something more.
Property managers are always seeking ways to maximize the value of their properties. One way to achieve this is to use every square inch of the property to its fullest potential. Regardless how large or small the area may be, there are endless ways to optimize underused or negative space by transforming it into a magical oasis for your residents to enjoy.  Sometimes it takes a fresh look or a designer's keen eye to see the potential of turning the drab into something fab.
How To Update A Drab Corridor With Color
This ordinary corridor has now been completely transformed into a magnificent sensory adventure with bursts of color and wonderful fragrances displaying new clean lines that enhance the entire experience of moving through the community from one building to the next. With the right maintenance and upkeep, this new adventure as it grows and matures will build upon its self with each passing season.
Barren, drab and blah can be turned into bright, rich, open and chic by adding natural stone, and an assortment of seasonal flowers and greenery along with beautifully designed planters to match any style. This experience can be extended for additional extra hours by adding landscape lighting.  With minimal investment, this space has been completely transformed.
Enhance Your Space With Seasonal Plants and Containers
No need to "cut corners" when they can be used to draw residents in. As an experienced commercial landscape company, with nearly half a century of experience, we at Complete have staff that can make professional and budget-friendly recommendations for property improvements.  Adding new or additional plantings, seasonal color or container ideas will enhance the appearance of your commercial property. This can often be done quickly and without the added hefty design fee.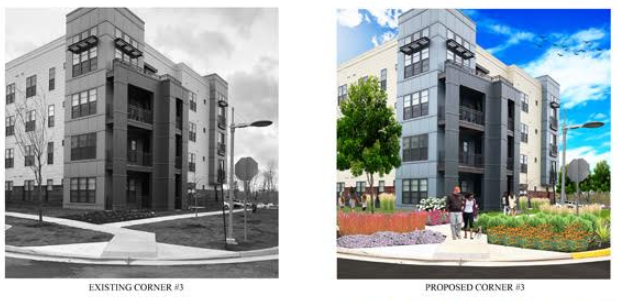 Don't Forget About The Rooftop
For the urban or city property, you may not think you have this space but the solution here may be to simply look up. By adding a rooftop garden, courtyard or lounge, you may actually have a way to take advantage of outdoor space and offer residents a breathtaking 360-degree view of beautiful sunsets and skylines. By creating an artfully designed green space above you will not only be adding to your property value, but also provide environmental benefits and a sanctuary for residents to gather in an otherwise urban jungle.
Learn More About Improving Your Property With Unused Space
Offering updated amenities that renters and visitors alike are looking for makes your property more competitive while increasing your rents per square foot. If you have ideas about how to improve your property or if you need some direction and advice to get the best return for your budget, we are here to help.  Complete Landscaping Service provides enhancement services for all types of commercial properties in Maryland, DC, and Northern Virginia.
Ready to Enhance Your Property?