The Best Landscape Enhancements for Commercial Properties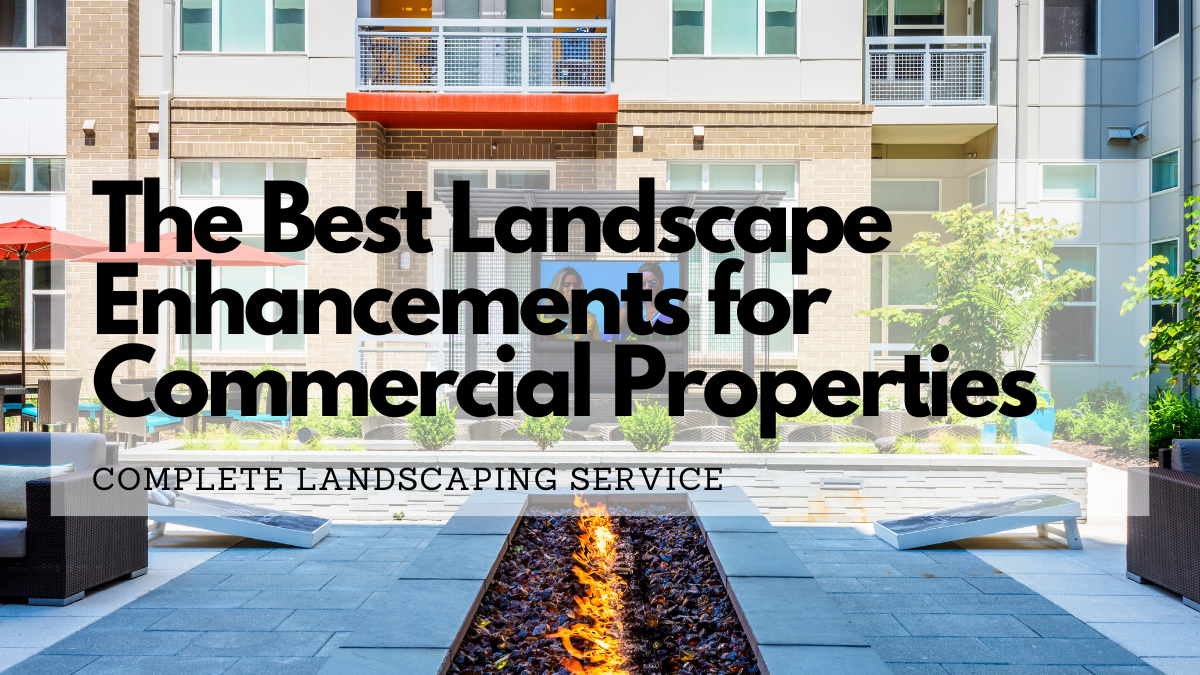 Ignite Interest
When it comes to property value, potential buyers judge the book by its cover. If a property appears unkempt, outdated, unsafe or inconvenient, the value is going to drop. On the other hand, if a property is well-maintained and features desirable amenities, ample parking and secure grounds, you'll ignite a buyer's interest. Landscape enhancements are a great way to boost property value and drive clients or buyers to your commercial property!

Whether you're looking to boost the property value of an office building, school, retail center, hospital, apartment community or other commercial building, there are plenty of ways to capture the attention of prospective buyers, tenants, customers or employees. To get started, familiarize yourself with client demand. What do tenants, students and office workers want and need? What do they wish they had? If you can renovate your property to meet the demands of others, your property value will soar.
In this post, we'll look at six ways to increase the value of your commercial property. With a few thoughtful changes, you can ensure that your property will be in higher demand, whether you're looking to entice buyers or gain positive attention.
1. Add Amenities
The right amenities can add a lot of value to your commercial property. First, know the needs and wants of potential buyers, customers or tenants. For example, if you own an apartment building and the majority of your tenants are active professionals, you can raise the value of your property by adding biking and walking paths and bike racks.
Biking is becoming increasingly popular as Americans are placing a higher value on healthy and green lifestyles. People want to spend time on properties that encourage well-being. Consider that the number of people who commute to work by bike increased about 60 percent over the past decade, according to the United States Census Bureau.
No matter what type of business your commercial property offers, visitors or tenants will be attracted to and appreciate a place to park their bikes or take a walk. In fact, 42 percent of apartment residents were willing to pay a premium for walking trails, according to a National Apartment Association (NAA) study.
Other high-demand amenities likely to increase the value of your property include:
Dog parks

Swimming pools

Fitness centers

Playgrounds

Common areas for socializing

Wi-Fi in common areas
If you're an apartment or condominium property owner, you should keep in mind that the following unit amenities are highly desirable and add to property value:
Washers and dryers in each unit

Hardwood floors

Personal outdoor spaces such as a balconies or patios

Energy-efficient appliances

Granite kitchen countertops
The NAA study found that 49 percent of apartment residents would pay $75 a month extra for hardwood floors and 41 percent would pay $50 a month extra for a balcony.

As you can see, if you turn your property into a haven that encourages recreation, fitness, convenience and efficiency, you'll instantly boost its value.
2. Maintain the Grounds
A well-maintained property says a lot about your business. Potential buyers, tenants or customers are more likely to trust, respect and show interest in a property that respects itself. If there is garbage all over the property, a lawn that is overgrown with weeds or parking areas that are filled with potholes, you'll see people running in the other direction or to another property that takes an interest in its appearance.
Also, no matter what type of commercial building you own or manage, a poorly maintained building can be a safety hazard. Safety hazards not only decrease the value of your property based on aesthetics but could also lead to a lawsuit if someone is injured. Always make proper ice and snow removal a priority to ensure the safety of others. Be proactive when it comes to maintenance rather than reactive, and you'll save yourself tons of money and boost property value in the long-run.
When it comes to commerical property grounds maintenance, be sure to consider the following:
Pest control and integrated pest management

Snow or ice removal

Pavement repairs

Courtyard maintenance

Pool maintenance

Exterior lighting

Athletic field maintenance

Use of fertilizer

Drainage

Tree removal

Sprinkling system

Mowing, pruning and weeding

Fresh mulch application

Mold removal from exterior walls

Graffiti removal

Replacement of old or weathered signs
With well-manicured grounds, people will feel good about your property, and they will trust that you care about your business and mission. They'll be more excited to spend time at your location. Fortunately, simple maintenance is often an affordable and quick way to increase property value.
3. Provide Parking
Ample parking can make a huge difference for a commercial property and should not be overlooked. If your property has everything someone is looking for except parking, they may go elsewhere.

Think of a time when you've had an important appointment or date to visit apartment-dwelling friends and have been unable to find a parking spot. It was quite a frustrating experience, right? Sometimes, just a few more parking spots can make a difference.
Parking is especially important if you own an apartment building and want to attract tenants. If you can't get or keep tenants, your property value will drop. Therefore, easy and accessible parking is a worthwhile investment.
Evaluate the land surrounding your property. Is there unused space that you can dedicate to parking? You don't want to sacrifice too much green space for a decent-sized parking lot either, so make sure to consider all your options. Perhaps you can work out a shared parking lot deal with a neighboring business, or add even just a few parking spots in an empty area. Any parking availability is better than none, for both your property visitors and your property value.
4. Add Security
No matter where your commercial property is located, security will make visitors feel at peace and increase value. Consider adding a gate or alarm system or hiring security for your commercial property if you don't already have security in place. If you need a gate upgrade, make the change. An attractive gate can also have curb appeal and add thousands of dollars to the value of your property.
For example, a secure gate not only makes employees or tenants feel safe but also allows them to enjoy a greater level of privacy and protection from solicitors and unwanted visitors. Children and pets will also be kept in from the road. Plus, who doesn't feel special having access to a secure area?
A gate can make any property seem more luxurious. Potential buyers or tenants will value a secure living or working space.
5. Create Curb Appeal With Landscape Enhancement Plans
Sometimes, a fresh coat of paint and professional landscaping is all you need. When you increase your commercial property's curb appeal, you increase the property's value.
Think about it — have you ever taken a stroll around an unfamiliar neighborhood and been stopped in your tracks by a stunning business? Perhaps the property had a jaw-dropping landscape design that complemented exterior paint colors so well that you could not help but stop and stare. Likewise, you can probably recall a few properties in need of color, texture and visual appeal that grabbed your attention for all the wrong reasons.
People are attracted to beauty in all forms, and a commercial property is no exception. If you want to increase the value of your commercial property and attract visitors or customers, make it pop with a creative landscape design. Using a professional landscaping service can increase the value of your property in more ways than one.

Creative Landscape Enhancement and Design Ideas
For example, people love trees, and they're willing to pay a higher price to have trees in their lives. Trees are not only visually rich and colorful, but they also provide shade, privacy and help with blocking noise. According to the University of Washington:
Large trees can add from three to 15 percent to a property's value.

Commercial offices with high-quality landscaping had a seven percent higher rental rate.

Shoppers say they will spend nine to 12 percent more for goods and services in an attractive, tree-lined business area.

Shoppers will travel further to visit a shopping district that features trees, and they'll spend more time there.
Functional, beautiful and welcoming landscaping attracts tenants too. For example, a common area that features a place to gather and socialize outside is highly desirable for young renters. In fact, the NAA reported that landscaping in common areas is one of the top amenities apartment residents desire.
Similarly, a beautiful hardscaping design can increase the value of an apartment or condominium community because it creates a luxurious vibe and an interesting, clean space where residents can gather and socialize.
What's hardscaping? Hardscaping includes the non-living hard surfaces in a landscape design, such as pathways, patio floors and outdoor fire pits. When combined with plants and water elements, hardscaping can be highly imaginative and appealing. Imagine how excited potential residents will feel to gather around a sleek concrete fire pit under a starry sky.
If you want to increase the curb appeal with colorful seasonal flowers and an impressive landscaped exterior, professional landscaping is the way to go. Landscape enhancements help visitors envision themselves relaxing on the grounds, enjoying the weather and savoring each other's company, which is great for your property value.
6. Upgrade Utilities
One sure way to attract tenants or buyers is to update appliances and utilities for cost-efficiency and convenience. As a result, your commercial property will keep up with customer demands.
The cost of electricity is on the rise across all sectors in the United States. Likewise, water utility costs are growing in certain areas. By replacing outdated appliances with modern ones, you'll not only save money in the long-run as a commercial property owner but also attract buyers who want to enjoy the benefits of new utilities.
Besides cutting utility costs, tenants and customers desire the convenience, look and feel of modern energy-efficient appliances, and they're willing to pay a higher price for such features. Here are some ideas to consider for modern utilities:

Switch to efficient lighting:


You can cut energy costs simply by switching old light bulbs with energy-efficient light bulbs. This change will mean that property tenants or visitors can use the same amount of electricity, and you will still save money and increase the value of your property. Choose halogen incandescent, compact fluorescent lamps (CFLs) or light emitting diodes (LEDs) for both interior and exterior light fixtures. Qualified LEDs, for example, use only 20 to 25 percent of the energy of regular incandescent bulbs and last a lot longer.

Upgrade your HVAC system:


If your property's HVAC system is over ten years old, it may be time to replace it with an ENERGY STAR qualified system. Ask a technician to check your HVAC for air leaks, and clean air filters monthly. Make sure each unit on your property has programmable thermostats, so heating or cooling is used only as needed.

Install wireless technology:


Wireless technology is a must-have for many and doesn't come at a great cost for property owners.

Use submeters for utilities:


Submetering proves to tenants that they are paying for only what they use. It gives them peace of mind because they know they are not being charged unfair utility rates, and it's a desirable amenity for many, increasing your property's value.

Think green:


Use solar power or add trees to help reduce utility costs. Solar panels, for example, appeal to eco-conscious individuals and will increase your property value. Although the initial installation may be pricey, your property will be equipped to save thousands of dollars over a 20-year span. Adding trees can block wind and create shade, helping to reduce heating and cooling costs over time.
Update appliances:


Replace old appliances with modern, energy-saving versions to cut utility costs and boost property value. Appliances that carry the ENERGY STAR logo are designed for efficiency, and you can choose anything from dishwashers to energy-efficient office equipment.
To enhance the value of your commercial property, sometimes it's worth a little extra cost. Small changes can make a huge impact and positive impression on potential property buyers, tenants, customers, clients, employees, students or anyone you wish to draw to your location. If your property doesn't look good on the outside, a passerby or visitor won't expect to be blown away by the inside. Encourage others to stop by with a beautiful, eye-catching exterior, and watch your property value skyrocket.
The Best Commercial Landscape Enhancement | Maryland, Washington DC, and Northern Virginia
Are you looking for ways to increase your commercial property value? Complete Landscaping Service is the solution you need. We offer full-service commercial landscape maintenance, high-end landscape design, installation and construction. Since 1979, we've been wowing our customers with gorgeous landscapes in the Maryland, Virginia and Washington, D.C region.
Whether you're looking for seasonal flower displays to brighten up your office complex or a calming apartment courtyard complete with bridge, waterfall and lush vegetation, we have the experience, expertise and pride to design the perfect landscape for your commercial property. To boost your property value and achieve Green Peace of Mind, contact Complete Landscaping Service or request a free quote for a landscape enhancement plan today!