Two-in-One Landscape Design: Where Features Meet Function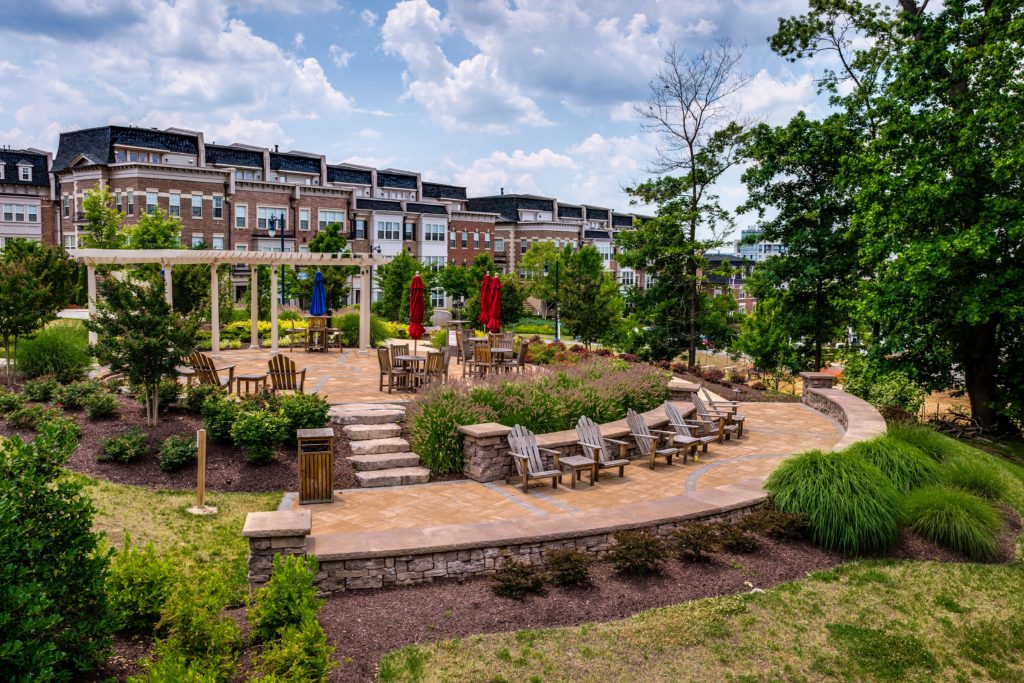 Landscape Architects and Designers plan landscapes.  Working with property owners, they create the objectives to accomplish and define problems that need to be solved.  Commercial property owners and managers have a lot to think about when it comes to how the exterior of their property looks.  They have to think about the type of spaces they have, how they want them to be used, and what they want them to look like. They also need to consider how much maintenance and upkeep will be required to keep the spaces looking their best.  The answers become the goals of the project. Designers often have to create functional spaces that are also beautiful. This goes beyond plant selection. It carries over into finding landscape elements that have a purpose but also beautify the surroundings.  
Plant Selection
We all know plants can beautify a space.  Their colors, shapes, textures, and seasonal interest make the outdoors inviting and eye-catching.  But plants can also serve a purpose. Evergreens can be planted to create a screen to block an unattractive view.  Shrubs and perennials can be used to soften building walls and make them appear less angular. Large shade trees can even reduce energy consumption by providing natural shade and keeping buildings cooler.  Plants can even assist with capturing rain-water and surface run-off which reduces erosion and water pollution. They are the truest example of function following beauty. 
Outdoor Furnishings
Furniture is first and foremost functional.  It provides somewhere to sit, eat, dispose of unneeded items, park a bicycle, and a host of other tasks.  But no one is going to use furniture if it isn't comfortable, properly placed, and conducive to gathering and interacting.  Nothing says "home" like outdoor furnishings designed to give you a space to relax and lounge. In retail and office environments, furniture creates spaces where employees and visitors can take a break and unwind.  Furniture is made from a variety of materials and comes in a rainbow of colors and finishes. Whether your commercial property is traditional, ultra-modern, or somewhere in between, there is a collection of furnishings that will add character while still being functional.
Fire Features
One of the goals of a great outdoor space is that people will use it year round.  Fire features like fire pits, fire tables, and fireplaces, extend the use of an outdoor space into the cool fall months.  They also make spaces more inviting on evenings when temperatures may dip. Fire features also become a natural gathering place for residents visitors.
Green Walls 
Green walls can be used both indoors and outdoors, and are sometimes called vertical gardens.  Green screens support climbing vines, whereas green walls can have plants directly planted into them. Both green screens and green walls can be attached to an existing wall or can be freestanding.  They serve to introduce lush landscaping to areas that may otherwise be off limits to greenery. Green screens can be used to disguise building walls or to create a sense of privacy and seclusion. Green Walls can bring the outdoors inside by creating fully functional "gardens" on the walls of your lobby or office.
Shade Structures
When thinking about outdoor spaces, you have to consider the year-round climate.  In summer months, people may be less likely to use outdoor spaces if shade is not available.  Options for providing shade used to be limited to simple umbrellas. Now designers incorporate pergolas, sun shades, and trellis to create vertical focal points in their designs but also provide functional shade and covered spaces for the intended users.  
Cohesive Themes
Establishing a consistent design theme or concept can go a long way in marketing a commercial property.  Initially, themes may seem more about beauty than function, but in reality, themes tie a project together.  Themes can take shape in many ways. It can start with a select color pallet for the plantings that is repeated throughout the property.  It may also be standardizing particular furnishings or amenity pieces that are used throughout a community or a portfolio. Theme plantings can also draw the eye through a landscape as can themed signage.  Ultimately, themes define to the user what belongs to that property and the spaces within it.
Form doesn't always follow function – the two go hand in hand.  Defining outdoor spaces takes a combination of various elements used together to create a harmonious balance.  If you're ready to consider some ideas about how you can make the most out of your exterior spaces by introducing beautiful, yet functional, landscape elements, we are here to help.