Using winter pots throughout your commercial property can add curb appeal when other landscaping is dormant.  Containers and pots are a great way to add pops of color, divide and define spaces, or just accentuate architectural elements throughout a commercial property.  Summer flowers and tropical accents can create a resort-style feel while the bright colors of fall pansies and evergreen centerpieces remind us that the holidays are right around the corner.  But what do you do when winter hits?  Many flowers won't thrive when it's snowing or below freezing and it's way too cold for tropicals.
So how can you make good use of those pots all year round?  Winter pots have the same basic components as other seasonal planters – there's the thrill…the fill…and the spill.  Here are some of our favorite ideas for winter arrangements.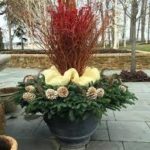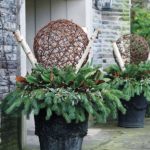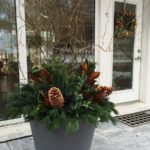 The Thrill
The thrill element of winter pots is also known as the centerpiece or the focal point of the container.  These can be taller living components like ornamental grasses or dwarf evergreens.  They can also be branches or stems of plants that have an interesting structure or bright colors.  They can even be structures with fun shapes like obelisks or trellises.
The Fill
Evergreen cuttings with stiff branches can be used to fill voids and open space in winter containers. Needled evergreens tend to last longer than evergreens like holly, but either can be used. Or a pre-made live wreath can be used at the base of the pot to create a skirt of green.  Mix in bows or natural elements like pine cones, Southern Magnolia leaves or dried flower pods to fill the spaces between cuttings. Mixing colors and textures creates visual interest that would normally come from the flowers in summer.  Incorporating company colors or creating themes can help to further brand the property even in winter.
The Spill
"Spill" in winter pots isn't quite the same as what you would see in summer pots.  Although come to think of it, evergreen groundcovers like Ivy or Vinca could be used to create a trailing effect.  In most cases, winter pots have weeping evergreen branches or the tails of a colorful ribbon creating the spillover effect.  Cedar branches come in light greens and yellows and can accent the deeper greens of the filler areas.
Don't Forget the Lights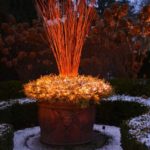 Once the winter pots are complete, adding battery or solar LED lights can really make these arrangements stand out.  In the cool months of winter, the nights are longer so using accent lighting in winter pots can illuminate gathering and event spaces.  It can help to create a festive mood as well as provide a little extra site lighting around leasing centers, office entrances, and storefronts.  Lights could be used around the top surface of the pot to shine through the "fill" level or could be strung through the vertical accents to add to the dramatic height.
When your commercial needs a winter pick-me-up, don't forget about those pots!  Fantastic winter pots are a great way to add color and light to your landscape and keep those containers out of storage.