Employee Spotlight: Breanna Anderson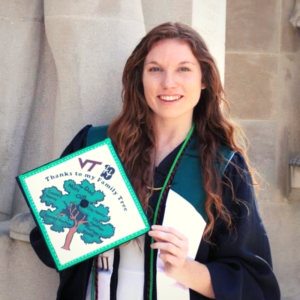 MEET BREANNA ANDERSON, Regional Account Manager
Born and raised in Virginia, Breanna fell in love with being outdoors at a young age.  Camping with family, hiking, and exploring the landscape are some of her fondest childhood memories.  Knowing that she wanted to enter the green industry, she chose to obtain her degree in Forestry Resource Management at Virginia Tech, and it was then that she knew she was destined to be an Arborist. 
Following her graduation in 2017, Breanna began her career as a tree technician and quickly gained trust in the landscaping industry.  In the field, her knowledge of trees, their role in the environment, and proper care and preventative maintenance, were put to the test. Breanna rose to the challenge and continued to learn and grow through her hands-on experience.
In 2019, Breanna joined the Complete team. She was looking for an opportunity where she could not only tend to diseased and misplaced trees but actually manage where they are planted in the first place. Stepping into the Account Manager position gave her that opportunity.  In addition to overseeing service performance and quality, Breanna gets to work closely with clients to educate them about "right plant, right place" as well as the value that properly cared for trees can add to the landscape.  
Breanna is enthusiastic about the importance of trees, especially in urban settings. As she put it "I help both the trees and people" by properly planning the placement of trees so that as they grow, they are not disturbing the surroundings and the surroundings are not negatively impacting them.
Recently, Breanna became eligible to apply to take her Arborist Certification Exam. Formal certification with the International Society of Arborists requires 4 years of education and 2 years of field experience before you can even sit to take the test.  It is a tedious assessment and covers everything from proper planting and soil conditions for trees to pruning to disease and insect controls.  Breanna was determined to achieve this next milestone in her career knowing this achievement would give her the tools to provide sound and authoritative advice when it comes to all things trees. 
Breanna is a passionate and knowledgeable landscaping professional. When you partner with Complete, you have the assurance that we will expertly design and maintain your landscaping to last for years and years to come.