Employee Spotlight: Jenna Laidley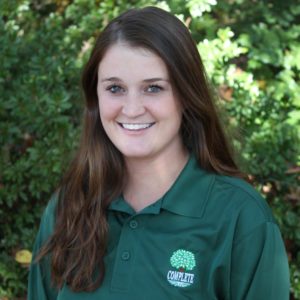 Meet Jenna Laidley!  Jenna is our Accounts Receivable Manager and Senior Contract Administrator and has been with Complete Landscaping for over 5 years.  She has taken on every opportunity she has been given at Complete without hesitation, making her an integral part of our team.  Her determination has helped her thrive in any role she has been placed in. This same determination guided her through her lacrosse career back at Huntington High School before she graduated in 2012. She spent 3 years studying political science at Catholic University until 2015 when Jenna started her career with Complete as a Contract Coordinator. Here she was able to dip her toe into administrative responsibilities including management of contracts, communication with clients, and coordinating directly with both the sales and operations teams. With her attention to detail, problem-solving, and leadership skills Jenna continued to move forward in her career and help Complete grow over the years.
In 2020 she took on the Accounts Receivable department and management of weekly schedules, billing issues, and quality control in our Commercial Maintenance Department. She is now in the process of learning all administrative and accounting processes to be able to help with the opening of the new Virginia office location in Sterling, VA in 2021.  Upon its grand opening, she will be the lead for all administrative duties for the Virginia Branch. During her time at Complete Landscaping Service, Jennas has developed skills beyond her years; she is someone to watch over the upcoming years at Complete.