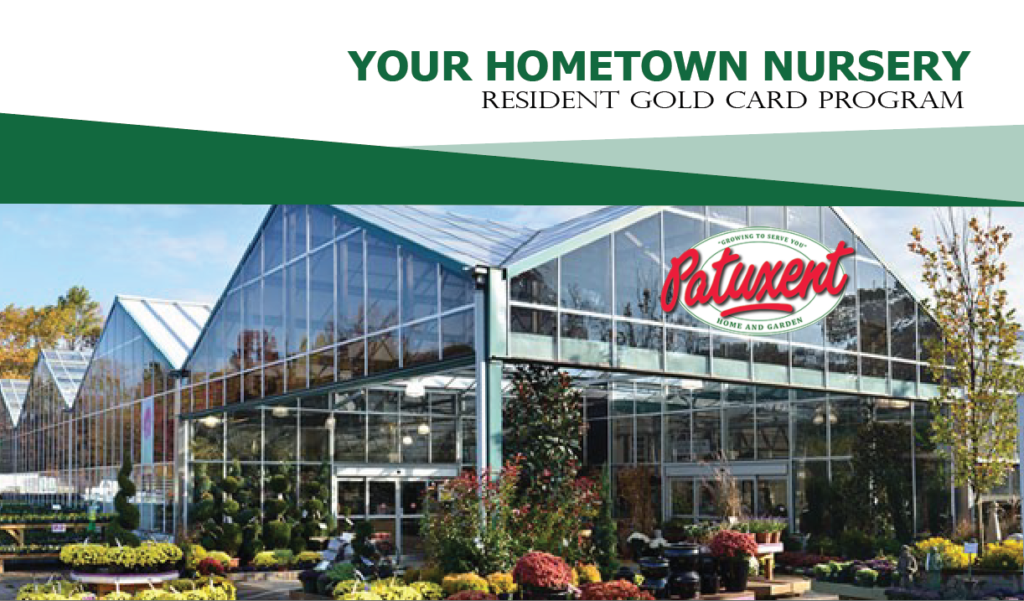 HOA Gold Club Membership
Growing to Serve You
Our mission continues to be to provide top quality plants and materials to the landscape trade and to provide unique benefits to the Complete Landscaping family of clients.
Patuxent Nursery serves area homeowners by offering premium grade plants, trees, and shrubs at discounted prices. The Patuxent Gold Club is an exclusive benefit of being a Complete Landscaping Service customer.
Homeowners benefit from even lower prices on every plant, tree or shrub they purchase just for being part of the Complete Landscape Family.
HOW DOES IT WORK?
Residents will receive a six-digit validation code from their Home Owners Association. Once the code is received, residents can register online or in store by bringing a copy of their letter/email to activate their account and start saving.
Patuxent Nursery Your Local Home & Garden Center
We are proud to offer homeowners a very special, and personalized shopping experience. Patuxent Nursery features:
Largest Selection of Native Trees & Shrubs
Colorful Assortment of Flowers and Perennials
Vast Variety of Tropicals and House Plants
Organically Grown Edibles
Lawn & Garden Care Products
Pottery, Statuary, and Fountains
Outdoor Living Accessories & Furniture
Gardening Oriented Gift Shop
* 10% off applies to full priced items only and can not be used in conjunction with coupon offers.
Patuxent Gold Club Benefits
10% Off Plants, Trees & Shrubs
Advance Notice of Promotions
Advance Notice of Special
Events Weekly Nursery Newsletter
---
Register Here
---
Patuxent Nursery
2410 N. Crain Highway | Bowie, MD 20716
(301) 218-4769
www.patuxentnursery.com