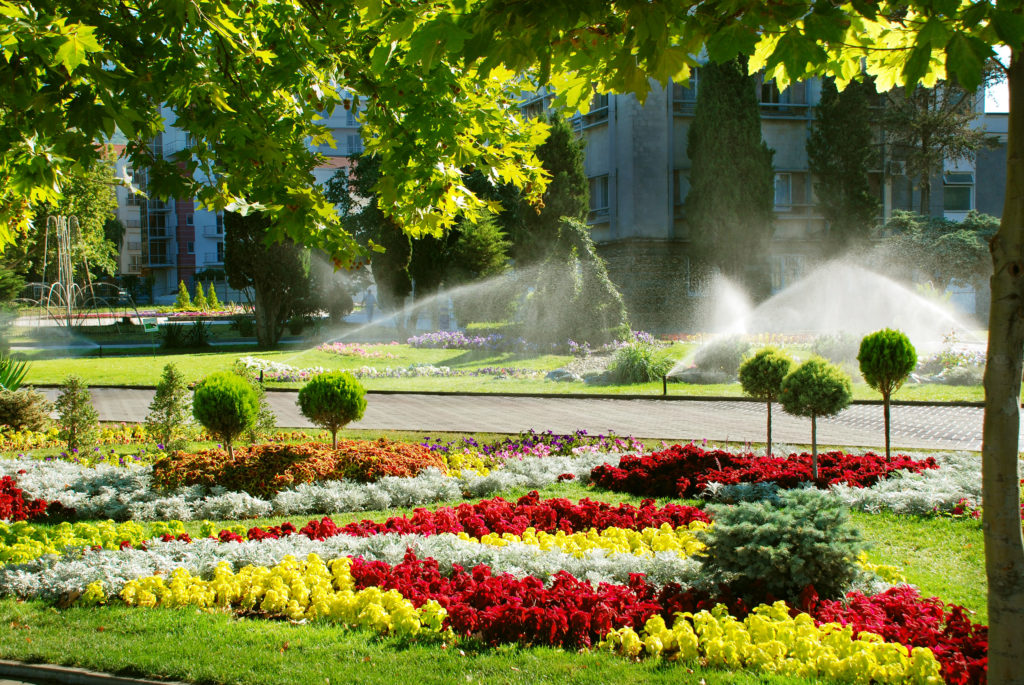 Keep Your Grounds Green and Growing
With Commercial Irrigation Services!
---
Annual Irrigation Service Policies
Sprinkler systems are vital to the health of many large commercial green spaces. While a well-designed system will be reliable and easy to use, regular maintenance helps protect your investment and ensures your lawn and garden are watered at all times.
Complete Landscaping Service offers convenient annual irrigation service policies for commercial clients in the DC Metro area. Whether we installed your system or not, we can put together a package of services that take care of all your ongoing maintenance needs.
What Does a Commercial Irrigation Service Policy Involve?
Each irrigation system and the property it serves is different. There are no one-size-fits-all solutions when it comes to service and maintenance. We customize our standard irrigation plans based on a consultation with your team, in which we review your current maintenance policy and determine the best way to help.
Typically, our standard irrigation service plans cover the following:
System start-up: When the warmer weather rolls in, you need to be sure your irrigation system is ready. A spring startup involves more than just turning on the taps — it's a chance to check for signs of damage and ensure your system is running as efficiently as possible.
Seasonal inspections: On more extensive sprinkler and irrigation systems, additional inspections may be necessary over the course of the summer. Our inspectors can perform a thorough review of your sprinkler heads, lines, drains, sensors, controls and other components for signs of leaks and other issues that cost you money and impact the longevity of your system.
Winterization: Winterization is one of the most critical steps in seasonal irrigation maintenance. Ice buildup in a system's lines can lead to costly damage over the colder months that may not be evident until spring. Count on our team to prepare your entire irrigation system for the freezing temperatures.
Benefits of an Annual Irrigation Service Policy
An annual irrigation service policy from Complete Landscaping Service will protect the long-term health of your system. Regular maintenance from a team that knows your property will make it easy to spot potential problems and take corrective action ahead of time. Our annual policies take the hassle out of maintenance and exchange the uncertainty of ongoing pricing for a fixed fee that fits into your budget.
We have experience working on irrigation systems of any size, from small sprinklers to large industrial installations. We work exclusively with commercial clients and have the in-house resources necessary to provide prompt and professional service throughout the DC Metro area.