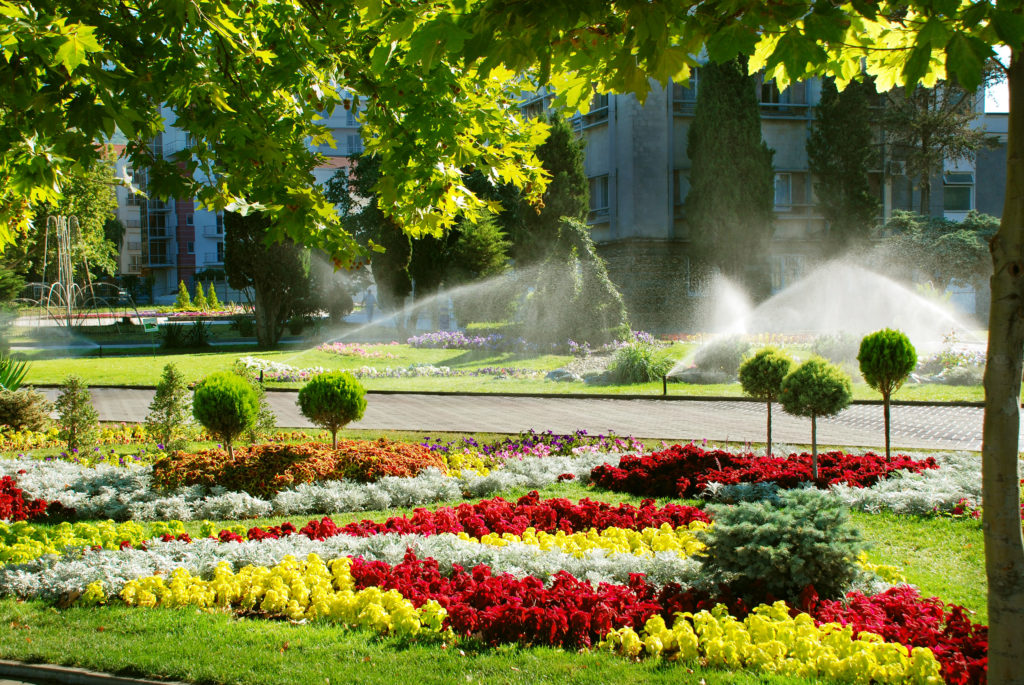 Keep Your Grounds Green and Growing
With Commercial Irrigation Services!
---
Site-Specific Watering Programs
Every property is different. Designing, installing and maintaining an irrigation system should be a customized, site-specific process. When an irrigation program is well-suited to the needs of your property, you'll enjoy healthier plants, less waste and lower ongoing costs. For this reason, it's essential to work with a partner you can trust.
Complete Landscaping Service is unique in its ability to develop site-specific watering programs for commercial properties in the DC area. We take a holistic approach to the process, in which we consider a range of factors to determine the most efficient and economical way to keep your lawn and garden looking its best all year long.
What Is a Site-Specific Watering Program?
A site-specific watering program is a custom irrigation plan designed for your property. It can encompass system engineering and installation, ongoing maintenance and seasonal service. Some of the things our technicians will look at when developing a plan for your property include:
The number and type of plants, and their watering needs: Different plants require different amounts of water and on different schedules. The first and most important priority of a site-specific watering plan is to make sure your plants have the resources they need to thrive.
The climate in your area: As longstanding irrigation experts for the DC Metro area, we can develop watering programs that take into account regional weather and temperature trends as well as specific microclimatic factors unique to your property.
The composition of the soil on your property: When it comes to irrigation, not all soil is the same. Sandy soil is drier and requires more frequent irrigation, whereas clay soil has a higher risk of runoff. A site-specific watering program should always consider soil composition. To achieve optimal results, our technicians may recommend applying compost or mulch.
We will also consider other factors such as the source and quality of water on your property, your internal maintenance capabilities and your ongoing budget for the project. We'll look at all of this and more to develop a watering program that is truly customized to your property.
Benefits of Site-Specific Watering Programs
When it comes to irrigation, there are no one-size-fits-all solutions. A site-specific watering program will deliver the most efficient use of water and resources to keep your operating costs down while ensuring your plants and lawn stay healthy with the least amount of work.
A lush lawn or garden adds to the value and curb appeal of your property, making a favorable impression on visitors and clients. Let us help you enhance your green spaces. Complete Landscaping Service works with commercial facilities of all sizes, from storefronts and office buildings to large industrial or residential complexes.