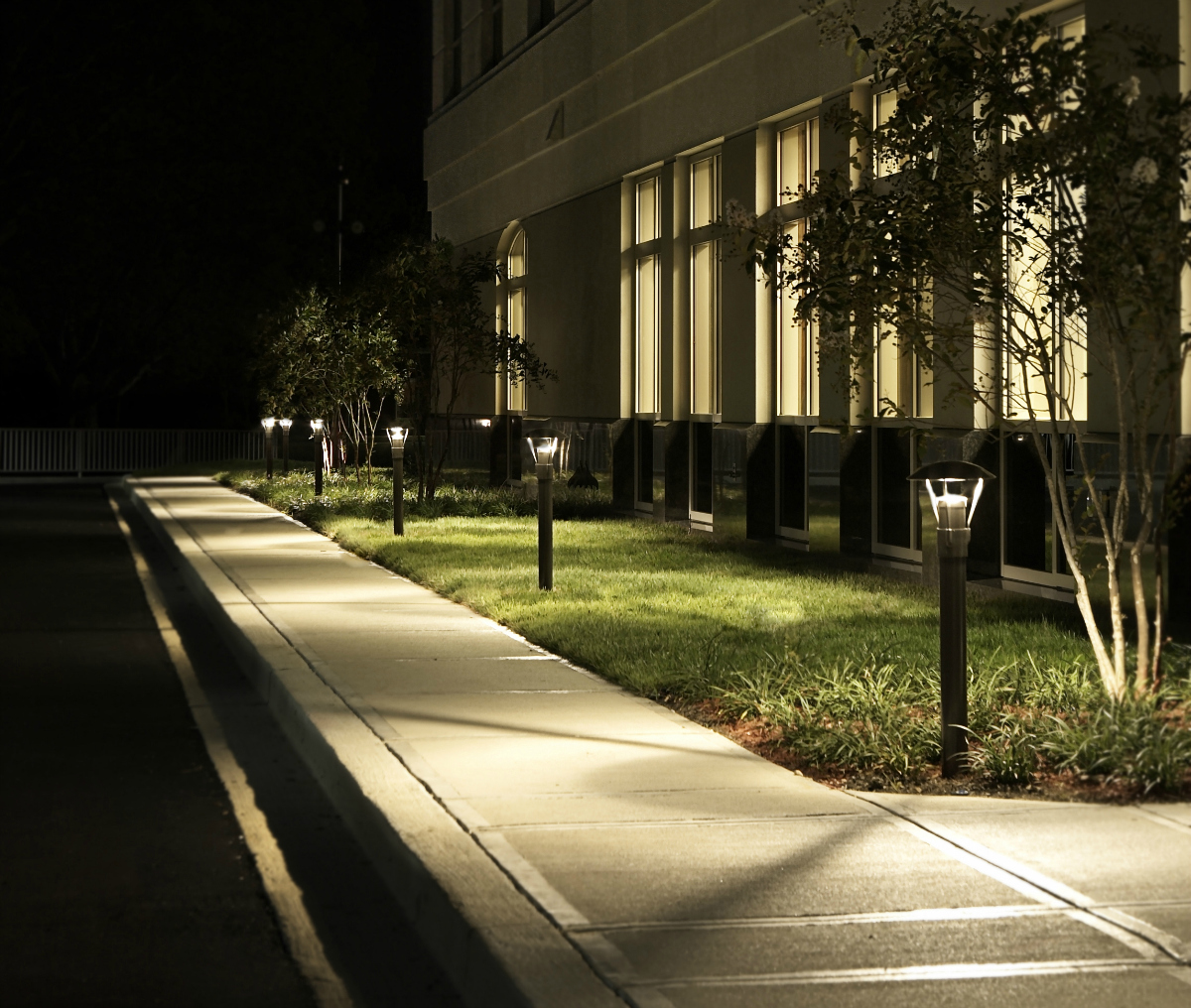 Get Your Property Noticed

With Professional Landscape Lighting!
---
Commercial Lighting Design Services in Maryland, Northern Virginia & D.C.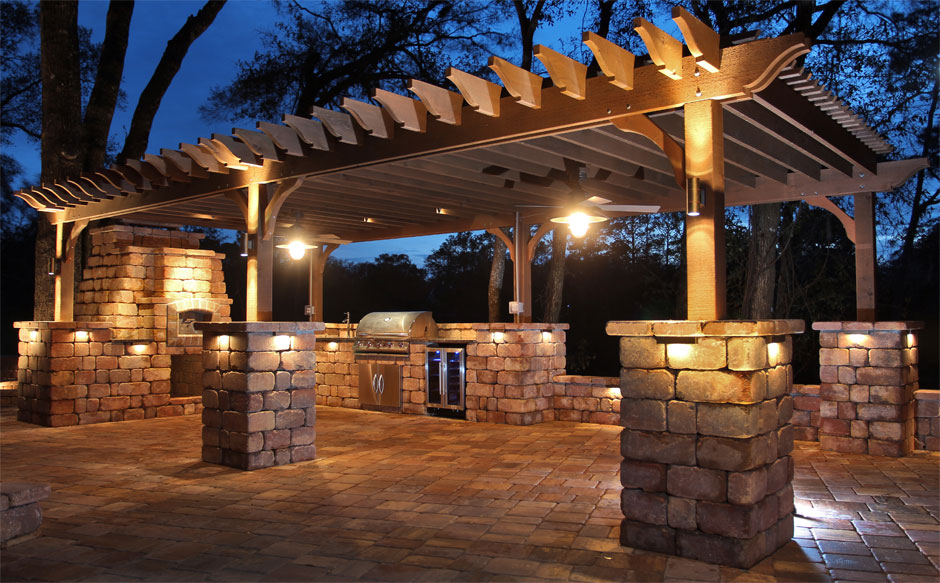 Illuminating your landscape with commercial lighting design increases property visibility, curb appeal, and safety – and it costs less than you may think. Even the most budget-conscious owners and managers can benefit from adding well-placed task and accent lighting throughout their properties.
Complete's commercial lighting professionals install energy efficient LED fixtures along walking paths, at building entrances, and to showcase unique architectural elements and specimen trees.  Automatic timers and solar controls reduce energy costs while guaranteeing maximum lighting benefit.  This seemingly small change can improve the visibility of your business after the sun has set and can help bring customers in the door. Commercial lighting design gets your property noticed and allows the landscape to be showcased – even after dark.
Why Work With a Professional?
Lighting a commercial property is something that many can do passably, but few can do expertly. You could string up a few exterior lamps and consider the job done. However, there are several good reasons for working with a professional.
A commercial lighting expert will be able to identify the best way to illuminate your property and make it feel more accessible to visitors. The effect may be subtle, but it's significant. Working with a professional also presents you with more options. The Complete Landscaping Service team is fully qualified to do the electrical work necessary to install smarter, more integrated systems that work for your business.
Finally, a commercial lighting expert will know what products are out there and be better positioned to make smart recommendations based on your property's needs and budget. For large facilities, lighting can be a major ongoing expense. We can suggest energy-efficient bulbs and smart control systems that keep your costs down without affecting performance.
Benefits of Commercial Lighting
Taking the time and effort to get the lighting right on your commercial property will deliver several benefits. An adequate lighting system that works reliably will create a more welcoming space that customers and visitors are happy to enter.
Beyond that, there are practical reasons for quality lighting. The right lighting is essential for safety. When your crew can see hazards more clearly, they can work more effectively, which improves your overall productivity and helps you run a more streamlined operation. Lighting is also essential to maintenance. Whether it's sweeping up dust or identifying potential issues with your infrastructure, you need to see what you're working with if you want to be proactive about service and repairs.
Finally, lighting is one of the largest energy users in most commercial facilities. A well-designed system will be more efficient, lowering your carbon footprint and potentially helping you qualify for LEED and other useful certifications.
Commercial Lighting Installation
At Complete Landscaping Service, we begin each new lighting project with a detailed on-site consultation. We will help you set a budget for your project and show you several options for proceeding. We can ensure your property meets ADA accessibility requirements as well as local bylaws.
Your options may include motion-sensitive or timed lighting, energy-efficiency fluorescent and LED bulbs, automatic dimmers and more. Different lighting systems work better for different spaces, too. For example, the illumination needs of a semi-automated warehouse will vary considerably from those of a busy apartment complex.
Once we've determined the optimum solution for your business, we'll put together a detailed quote and source the products we need to get the job done. We work with a variety of suppliers to find quality products for any application. During the installation, we'll work quickly to minimize disruption and maintain transparent communication as the job progresses. In the end, we'll deliver a quality job at a fair price — with no last-minute surprises or hidden fees.
Ongoing Maintenance & Emergency Repairs
Once your lighting system is set up, it won't need much regular maintenance other than periodically replacing bulbs. An annual inspection can help prevent signs of damage and ensure everything is working the way it should. If there is a problem, Complete Landscaping can respond quickly and provide on-site service to get you back up and running with a minimal amount of downtime.
Work with Complete Landscaping Service for Commercial Lighting
True to our name, Complete Landscaping Service is your source for everything you need to keep the exterior of your property looking its best. That includes lighting system design, installation and maintenance. Because we have experience with master planning, hardscaping and other services that fall outside the scope of most contractors, we can design smarter lighting systems that integrate with your existing property. We can also provide lighting installation as part of a larger exterior renovation.
Since 1979, we have been a dedicated partner to commercial properties of all sizes. We work with homeowners' associations, retailers, government facilities and other commercial operations. Based in Bowie, Maryland, we are positioned to serve customers throughout Washington, D.C., Northern Virginia and beyond.
From new system installation to ongoing repairs, make us your first choice for all commercial lighting services. To get started or request a quote, use the contact form below. You can also call us directly at 301-218-1800.