Winter Pots that Warm Up Your Commercial Landscape!
When you think of seasonal landscape… winter and pots don't necessarily come to mind. But what CAN be done to add color when winter hits?
Containers and pots are a great way to add seasonal color, define spaces, and even accentuate architectural elements throughout a commercial property. Don't let those planters sit around during the chilly months, let them help your landscape stand out.
Ever heard the saying, "Back to basics!"?  Winter planters don't have to be complicated.  Just remember the thrill, fill, and spill. Having an inviting color palette doesn't have to stop with the fall season.
So how can you make good use of those pots all year round?  Here are some of our favorite ideas for winter arrangements that add seasonal color to the landscape.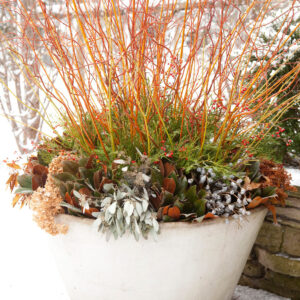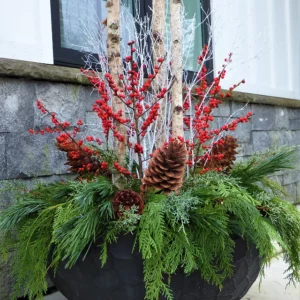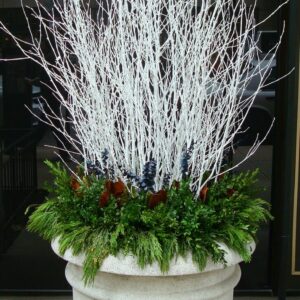 Thrill – The Star of Any Winter Pot!
"Thrills" are the centerpiece of any winter pot.  These can be taller living components. Ornamental grasses or dwarf evergreens are great examples. Want something even more thrilling?  Use abstract branches with interesting structure or bright colors for a creative touch.  You can also create visuals with branches, obelisks or trellises.  The goal of a thrill piece is to add structure, height, and visual interest to a winter pot.
Fill – The Fullness and Variation You Need!
Cuttings of evergreen with stiff branches can be used to fill voids while still allowing for some negative space.  Needled evergreens last longer than their broad-leaved counterparts like holly.  Pre-made live wreaths can be used at the base of the pot to create a skirt of deep green.  Bright red berries, textured natural elements like pine cones, and earthy Southern Magnolia leaves… can curate a simple yet wow-worthy touch.
Fill pieces do just that.  They fill the spaces between cuttings and create contrast.  Mixing colors and textures allows for visual interest that would normally come from the flowers in summer.
Spill – The Balance and Movement to Tie it All Together!
Can't imagine "Spill" in winter pots that will last in the cold?  Evergreen foliage like Ivy or Vinca creates beautiful cascades of foliage. This draws the eye through the winter arrangement. Weeping evergreen boughs or tails of a warm vermilion ribbon draw attention to your property, even in a snow-covered landscape.
Don't Forget the Lighting
Battery or solar LED lights can be the whimsical finishing touch to gorgeous winter planters.  In the dull winter months, the nights are longer.  Using accent lighting can brighten gathering and event spaces.  Lighting also creates a festive mood and provides a little extra visibility around leasing offices, building entrances, and storefronts.  Lights can be used around the top surface of the pot to shine through the "fill" level.  Stringing lights through the vertical interest accents can also add dramatic shape and height!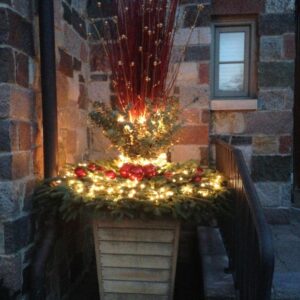 Why Winter Pots and Seasonal Planters are Important to Your Commercial Landscape
Winter color and seasonal planters add value to your landscape. It is as simple as that. Why go all winter without any color when you can have winter pots that make you stand out from all your competitors? 
The design experts at COMPLETE can help you put those pots to good use all winter long.  We recommend the right mix of colors, textures, and materials to keep your landscape feeling festive and looking eye-catching all season through.  
When your commercial landscape needs a winter pick-me-up, don't forget about those pots!  Full, vibrant, and inviting winter pots are a great way to add color and draw attention to any landscape. 
Contact us today at 800-383-0440 or Request a On-Site Consultation.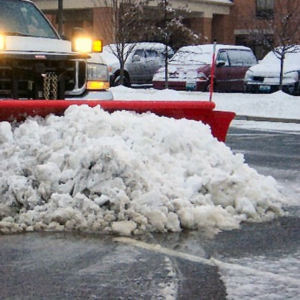 Request A Quote
Ready to see what Green Peace of Mind can do for your property?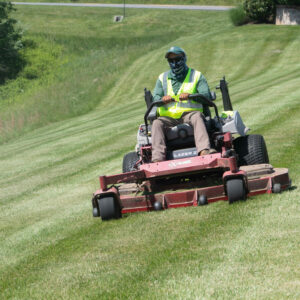 Our Services
Explore all of our commercial landscaping services.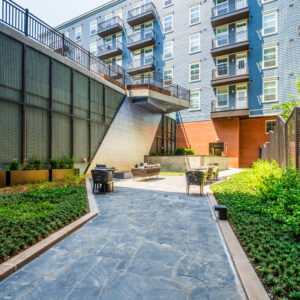 Commercial Properties
See what types of commercial properties we service.