Contemporary Planters Enhance Commercial Properties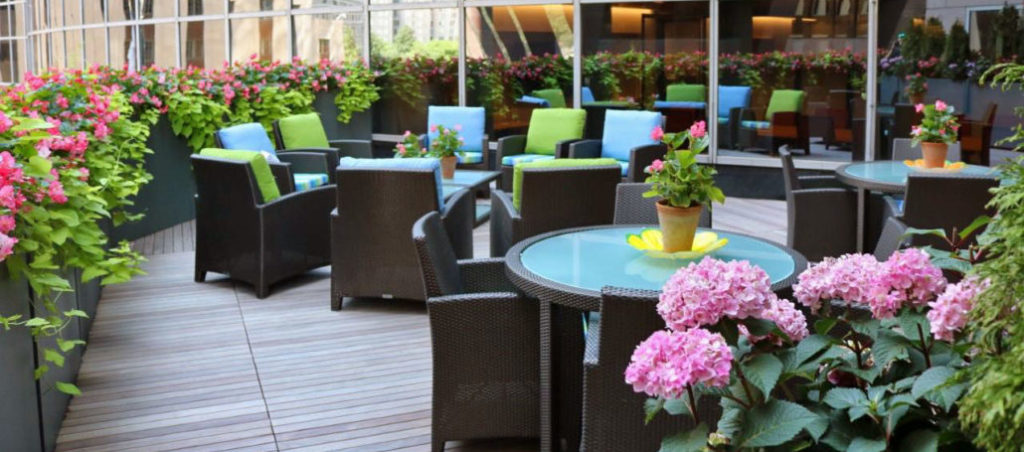 Contemporary planters – they're for more than flowers
Modern planters are a great way to add additional visual interest and functionality to commercial properties.  Whether it is inside the building or in locations throughout the exterior, containers help to define spaces, add unusual texture and dimension, and bring landscaping and green space to parts of a commercial property that would have otherwise been bare.  Contemporary planters go well beyond pool decks and entrance pots.  Today's planters come in a variety of materials that are weather resistant, lightweight, and durable making them usable year round.
Why add contemporary planters to my commercial property?
Planters serve many functions on commercial properties.  Most often, we see planters and containers used on pool decks to create a resort-style ambiance for apartment residents.  Planters are also commonly used to accent building and storefront entrances, but there are many other functional and aesthetic uses for planters throughout an apartment community, retail location, or office building.
Define Outdoor Spaces – Modern outdoor spaces can be very open, but sometimes, you want to be able to create more intimate outdoor spaces.  Planters can create natural barriers that define the space as well as how people should move through it.  They can also be used to create privacy or baffle sound.
Add Color and Height – Because containers come in a variety of sizes and shapes, they can be used to add height and color to an otherwise one-dimensional space.  When you add different shapes and heights to the landscape, you create visual interest which = curb appeal.
Create Green Spaces – Urban landscapes may not have expansive green spaces and may lack shade, shelter or seating for the visitors and employees.  By using planters, you can create small landscaped spaces that have the ability to accommodate shade trees, colorful shrubs and perennials as well as can provide seating.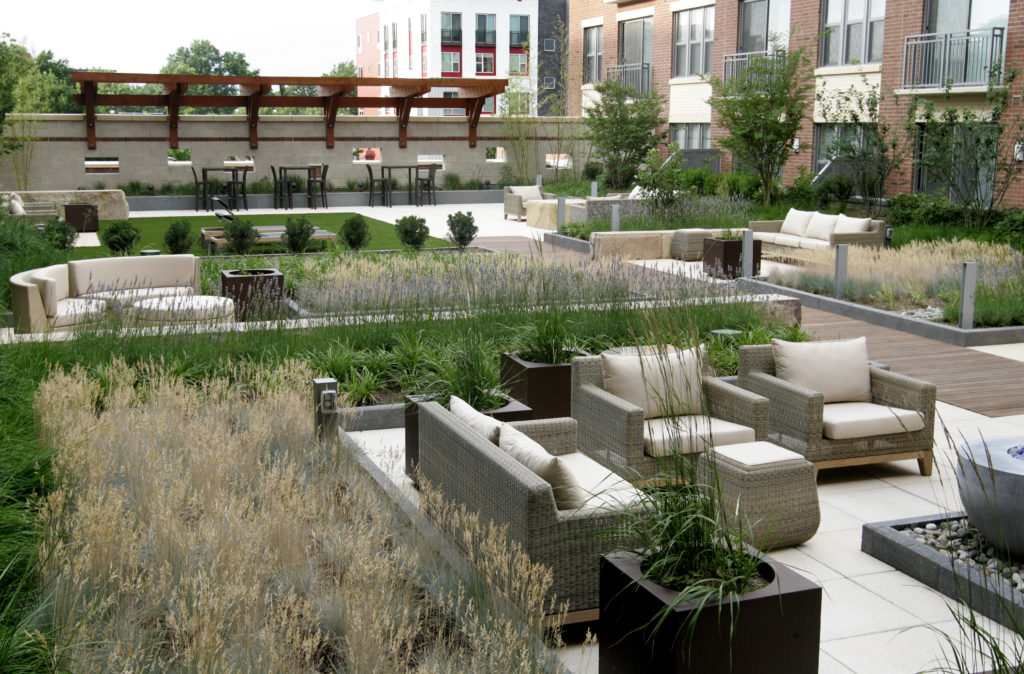 How do I choose the right contemporary planters for my property?
Many things can factor into choosing the right planter for your commercial property.  Space, feel, and location are all important things to consider when choosing planters.  Planters come in many sizes, shapes, and materials and can be used individually or in groups.  Accurate measurement of the space where the planters are to be installed is important so that the planters are proportionate to the existing building or space and doesn't interfere with foot traffic.  The material and style that you choose depend a lot on the space that you have and the feeling you are trying to create.  One of the more common materials for commercial planters is fiberglass.  The lighter weight and extensive array of shapes, colors, and textures, make it a very versatile material.  Fiberglass planters work in almost every commercial building situation.  Another option for planter material is stainless steel, copper, or other metals.  These styles are great to use when you have a very contemporary space or are creating an ultra modern vibe.  Wooden planters are great for rustic outdoor venues or spaces where there are already wood architectural elements.  Wood can require annual maintenance though, so it can prove to be a pricier option long term.