How Landscaping Compliments Commercial Building Features

The exterior of your physical location can say a lot about your company. It is the first impression your customers and employees have of the organization.  Landscaping and the exterior appearance shape how people feel about the business before they even get to know it. 
These are the top ways landscaping creates curb appeal and complements your commercial building's features.  It's a must for any company.
Compliment the Building's Architecture
Plants can show off the architectural style of any structure. This could mean era-specific plants to go with a building constructed in the 1930s.  Soft-textured, flowing landscapes play against modern, sleek buildings with hard edges and corners.  Tall steel buildings might look stark but the building's reflective properties a like a blank canvas.  When the landscaping is mirrored by the building, it looks even lusher.
Playing against the architectural style of your building can add to the visual interest.  Suddenly, a properly landscaped building looks like a purposeful piece of art. 

Create Clear Entrance and Exit Paths
Eye-catching landscaping helps to guide the eye…and the body…exactly where you want it to go.  It creates a welcoming environment.  Visitors won't realize they're subconsciously being led to your front door.
Planting design can also clearly define an exit. If the exit of your building isn't the same door as the entrance, landscaping can lead visitors back to the parking lot and their vehicle.
Accent the View From Inside
Many newer buildings have exterior glass walls.  No one wants to look outside and see dead or declining landscaping.  Colorful plants with various heights and textures frame the view of the people looking out. Viewing green can help our brains absorb serotonin, which leaves employees and visitors in better moods.  
Transform Any Space into an Oasis
A simple and inexpensive bench just set out on commercial property may be a letdown.  But surround that same bench with gorgeous shrubs and perennials and you have now created a purposeful seating area.  Suddenly that bench becomes a comfortable place to sit and recharge your mind. This idea is useful for companies that encourage employees to enjoy the outdoors.  Relaxing outdoor spaces can increase morale and be a perk to sell to future employees.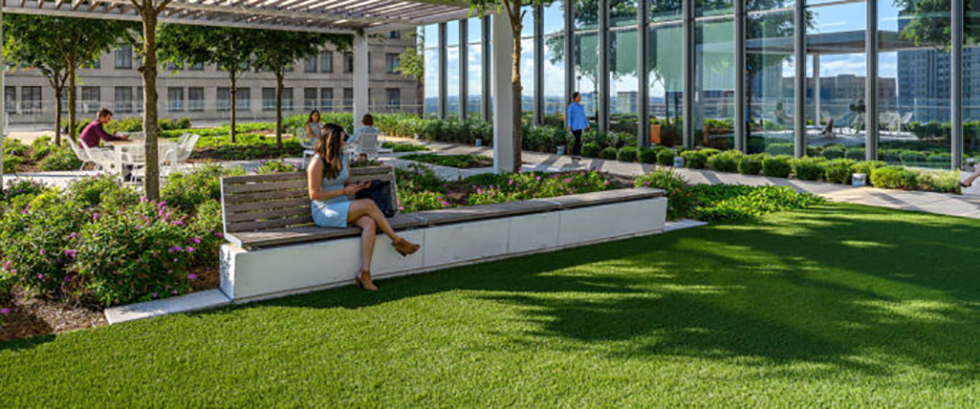 If you're thinking about making some changes to your landscaping and need ideas contact us to schedule an appointment.
Todd Gillman is the content director for the Innovative Building Materials blog and a content writer for the building materials industry. He is focused on helping fellow homeowners, contractors, and architects discover materials and methods of construction that save money, improve energy efficiency, and increase property value.