How Landscape Amenities Attract and Keep Tenants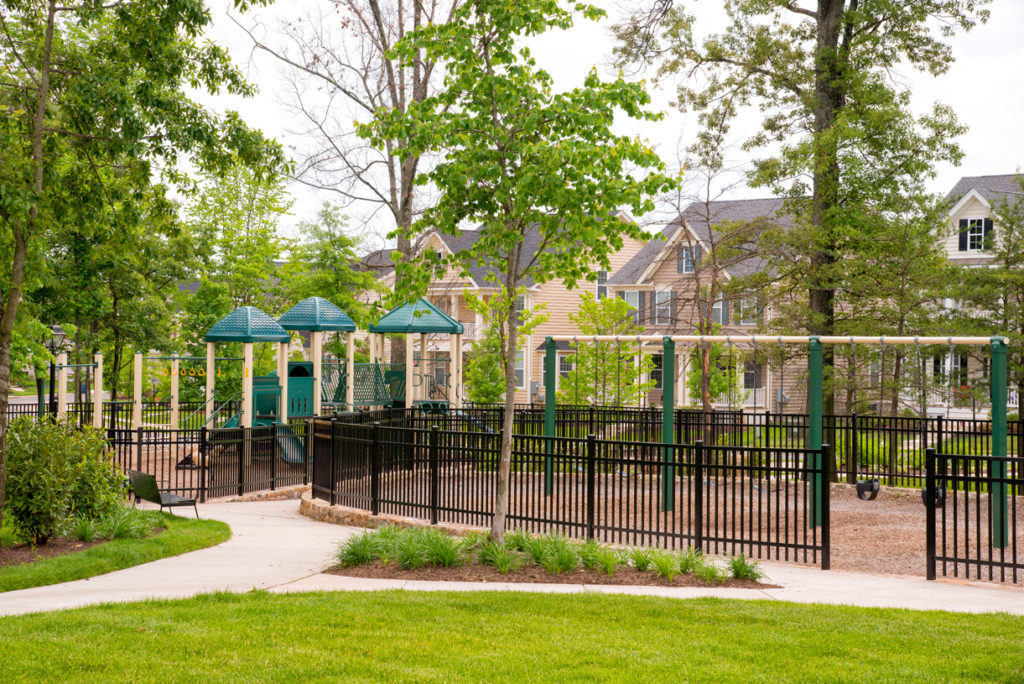 Landscape Amenities = More Renters
As a commercial property owner or manager, maximizing your income and tenant retention is the highest priority and landscape amenities are one way to insure that happens. A good year-round landscape maintenance plan is a great way to protect your investment and lengthen the life of your landscape.  But that may not be enough to wow the potential renters on the market.  Every day, competing communities with over the top landscape amenities are being built and if you don't offer the same or better, your perfect renter may just pass you by.
When dealing with your rental property, whether it's commercial or residential, there are three goals every property owner or management company looking to grow their portfolio desires to achieve.
Maximum rent
Minimize operating expenses
Increase the occupancy rate
In order to get the best return on your investment, stay at the high end of the rental rates, improve the property value and avoid tenant turnover, you will need to invest in the right landscape amenities: upgrades that will entice tenants to stay through multiple lease cycles.
Potential tenants can't see the inside when they are deciding if your property is where they want to live.  That initial decision is made from the seat of a vehicle while passing by the property or sitting in the parking lot of your leasing center. Every bit of that decision is made using visual stimulation from your landscape amenities and features and happens within the first 5 minutes of seeing a property. Tenants have accept the exterior in its current form so any upgrades made to the exterior will set your property apart from others on the market and getting it occupied faster saves you money upfront.
Get a Quote on Improving or Adding Landscape Amenities
 Who are Today's Renters?
To appeal to today's renters you need to understand who is renting today.  Today's residential renters are older especially renters over 55: they've grown by 28%, which is nearly ten times the growth rate of renters under 35 (3%).
Urban renters over 55 grew by 21%, compared to young urban renters only rising by 6%. The overwhelming majority of the growth in renter households has come from those with at least some college education.
Renters with a bachelor's degree or higher have ballooned by 23%. Those with some college? Up 17%.
But the fastest growth has been among married couples with no children – they're up by 21%.
In cities, these married-without-children renters are up a strong 16%. But in the suburbs, they've exploded by 33%.
(Stats Courtesy of Sparkrental. See entire article by clicking HERE.)
What Landscape Amenities are Today's Tenants Looking For?
The majority of renters today grew up during the time when we as a society spent time outside and community meant everything. You knew your neighbor and you spent time with them whether it was sitting on a bench in the park or at the picnic table sharing a meal or just chatting.
So what types of landscape amenities will attract the "new" tenants of today to your community or building?  Here are our top 5 picks: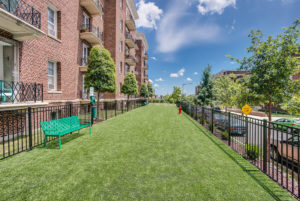 Dog Parks: For the past few years when meeting with clients the one thing that always seems to find its way into the conversation when we ask "what are your tenants asking for" is dog parks. Pets have been an important part of families ever since the beginning. Dog parks are a place for people to gather who have similar interests. Pet owners enjoy talking with other owners while the dogs play inside a safe and secure area. Dog parks can be very simple fenced in grass areas or extravagant turf areas with "doggie" obstacles and watering areas. Benches around and inside the areas give owners a place to sit and chat with other tenants.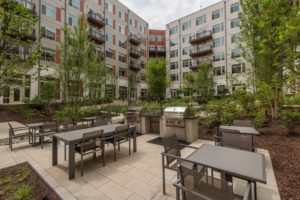 Picnic Areas: Picnic areas can be as extravagant as gourmet outdoor kitchens or as simple as a grill and a table but regardless of your budget you'll soon realize this is the most used of your landscape amenities. When you add a picnic table to an outdoor recreational area you are creating an inviting place where your tenants feel comfortable relaxing. This will help people enjoy your recreational area.  Retail locations and office complexes are often filled with tenants that would appreciate a space where they can get some fresh air and enjoy some time away from their desks.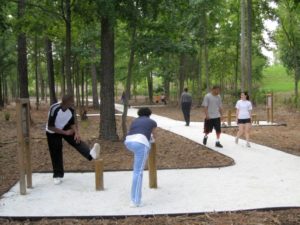 Fitness areas or trails. Not all properties have the room needed for a fitness trail but everyone can find an unused corner where you could put an outdoor workout space. Fitness is on the mind of most Americans and as property owners or managers catering to the tenant that prefer to workout outside could give you an edge over the competition. There are many options for outdoor fitness equipment. Outdoor Fitness Parks can be located directly beside your park or playground equipment which will make both a great family destination. American interest in fitness is at an all time high combined with our added interest in the outdoors and you have a winning combination.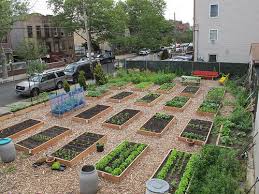 Community Gardens: One of the drawbacks for some people when moving into an apartment complex is the loss of the vegetable garden. Raised beds can be created which allow you to "rent" spaces where residents can grow their own vegetables. These could be simple wooden beds or expertly designed expanses of private plots and can incorporate materials such as recycled plastics.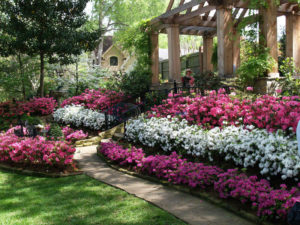 Colorful Landscaping:
Color catches the eye. Whether it's at the leasing center or throughout the entire community. People develop a sense of pride when they are happy and proud about where they live. I said it before – potential clients make a decision to investigate a property based on the first 5 minutes of seeing a property or while driving by at 55 mph. Nothing catches the eye faster than splashes of color and nothing attracts new tenants or retains existing ones more than a well maintained property full of landscape amenities that tenants enjoy using.
If you're ready to learn more about how Complete Landscaping can help with your landscape amenities plan or budget we are ready to help.
Get a Quote on Improving or Adding Landscape Amenities