The Latest In Core Aeration from Complete Landscaping Services
A great lawn can leave a lasting positive impression on potential customers or residents. If you are serious about having a gorgeous lawn on your property, autumn aeration is a must in lawn care. This fall Complete Landscaping Service is bringing you the latest innovative technology in lawn aeration. 
What to expect from Complete Landscaping Service?
Complete Landscaping professionals have an unsurpassable knowledge of just what your lawn needs, and the newest technology to get it done. The Stinger Quad Stand-on Core Aerator has 36 inches of rotating aeration pegs for extended reach and at top speeds of 8.5 mph, it can aerate 3.1 acres of lawn in just one hour! This machine is powered by hydraulics so our operators will not be slowed down by having to deal with chains and grease points. The wide-set drive tires reduce turf damage regular tires sometimes leave behind.  This machine is also unbeatable for hill-side stability and maximum control.
After swiftly and efficiently aerating the lawn, our professionals will overseed your grass. Later, a mid to late fall fertilizer application will promote root growth. This combination will ensure that the seed reaches the soil and kicks off growth for abundantly lush grass in spring, sure to impress any potential tenant, resident, or visitor.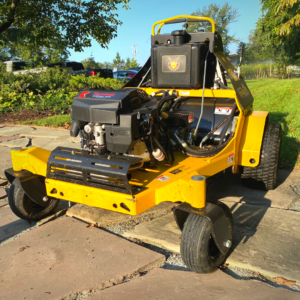 Why should I aerate my lawn?
A basic motivation for aerating your lawn is to allow your soil to breathe, allowing nutrients, air, and water to reach the roots of your grass. This will promote the growth of an extensive root system and subsequently, a beautiful, rich, and dense lawn. 
In addition, core aeration will help your lawn prepare for dormancy and ensure that it will thrive come spring. Grass is tired after a long, intense summer and without a boost, it may not be strong enough to survive a harsh winter.
Signs that your grass is in need of a pick-me-up:
While walking on the lawn, you may notice that it feels spongy. This may indicate that the grass is planted in clay soil and has poor drainage. Grass that is planted in clay soil almost always needs to be aerated. In comparison, sandy soils do not need frequent aeration. If you have poor drainage, pudding, or runoff issues, core aeration may be the solution.
If the lawn is used as a high traffic area such as a playground or gathering area, it may compact from extensive use. Compacted grass may starve the roots of oxygen. 
Hot summer sun, rainy August, and months of frequent mowing can cause a layer of dead grass to build up at the base of your grass. This layer of organic matter is called thatch and can strangle the roots. While aeration will not cure thatch completely, it can delay its progression or prep the area for dethatching.
When is the best time to aerate my lawn?
Depending on the amount of use your grass gets, aeration could be done as frequently as once a year.
Fall is optimal for aerating, ideally August to October. In the autumn, temperatures have cooled enough to eliminate threats of overheating and weeds tend to go into dormancy for winter. In the spring, the grass is more vulnerable to disease and weeds have more of an opportunity to pop up through the newly formed holes. 
Aeration should be done when the grass is still actively growing, never when dormant. Lingering warm temperatures in fall give your turf enough time to recover quickly and fill in vulnerable areas before the frost sets in.